THINKING VISUALLY IN OUR CLASSES
by
bego iturgaitz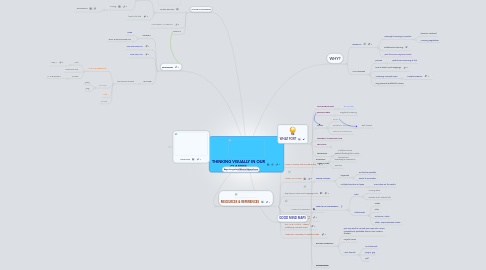 0.0
stars - reviews range from
0
to
5
Concept maps - Are commonly used to organize and represent tacit knowledge. - Usually contain general concepts at the top of the map, with more specific concepts arrayed hierarchically below. - Connector lines usually contains keywords or phrases that summarize the relationship between the topics they connect. Such as topic A "causes" topic B. - Topics may be cross-linked with each other to depict more complex relationships between topics. -Topics in mind maps may only have one parent; in a concept map, a topic may have multiple connector lines, each one representing a different relationship. Mind maps - Tend to be more flexible and personal than concept maps. - Used to slice and dice the map's central topic or concept in multiple ways. - May contain images and color, to make them more visually stimulating - Topics may only have a single parent
CRITERIA
ON LINE
WHAT FOR?
Mind-mapping is: A visual-spatial means of representing information; A good way to organise ideas; An innovative way to take notes (of a lecture, talk, discussion, etc.); An interesting way to plan essays, projects and assignments; An effective revision technique; A more structured approach to brainstorming; A way of overcoming the initial apprehension of those who consider themselves "poor at spelling"; A way of encouraging those who are good at drawing and sketching; Easy enough for everyone to do; An approach that suits activist learners (the "do-ers"); An approach that suits theorist learners (the "thinkers"); An approach that suits pragmatist learners (the "hands-on" students); An approach that can be easily adapted to suit the needs of reflective learners; A useful way to encourage activist learners to reflect on their initial suggestions. from http://www.brainboxx.co.uk/a3_aspects/pages/mindmap_teach.htm
BRAINSTORM
THINK
PRESENT/ COMMUNICATE
REVISION
RESEARCH
TAKE NOTES
IN THE CLASSROOM
HAND- DRAWN
DIGITAL
GOOD MIND MAPS
DYNAMIC
CLEAR LAYOUT
LINKS & ATTACHMENTS
Stimulate brain's visual and creative capacity. Capture extended thoughts without cluttering up the visible part
EXPORT FORMATS
COWORKING
RESOURCES
MIND MAP CENTRAL
WHY?
Helps visual learners grasp the material (however all learners benefit from the activity) Helps students see relationships between ideas, concepts, or authors Utilizes the full range of the left and right hemispheres of the brain Helps memory recall Helps to clarify and structure ideas Aids in developing higher-level thinking skills (create, analyze, evaluate) Helps students synthesize and integrate information, ideas and concepts Encourages students to think creatively about the subject Lets students do self-evaluation of beliefs, values, socialization, etc. Helps students evaluate assumptions.
CHALLENGES
Bego Iturgaitz b08lehen1@gmail.com