INTEL Sustainability Report
by tomas moreno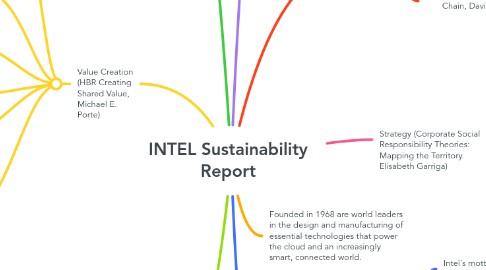 1. Revenue
1.1. Record Revenue in 2019 of $72 Billion USD
1.1.1. DATA-CENTRIC businesses accounted for the 48% of revenue.
1.1.2. PC-CENTRIC businesses accounted for the 52% of revenue
1.2. $5.6 Billion USD paid in dividends
2. Relationships
2.1. Customers
2.1.1. Intel´s motto: Our customers´ success is our success.
2.1.2. Their customers include other manufacturers and service providers.
2.2. Partners
2.2.1. High collaboration within the industry and partners ecosystem to advance the adoption of technology neutral safety standards
2.3. Political (Political theories, Corporate Social Responsibility Theories: Mapping the Territory. Elisabeth Garriga)
2.3.1. Educate political candidates about the implications of public policy decisions for our business, and provide financial support to candidates who hold positions consistent with our business objectives.
2.3.2. In 2019, our reported lobbying expenditures totaled $5.1 million, compared to $4 million in 2018.
3. Promises
3.1. They are committed to accelerate the adoption of responsible, inclusive, and sustainable practices in key areas in their operations and supply chain.
3.1.1. Responsible: Drive to even higher levels of safety, wellness, and responsible business practices in our own operations and supply chain.
3.1.1.1. Sustainable Development Goals involve: 12, 3 and 8
3.1.2. Inclusive: Advance diversity and inclusion at Intel, including doubling the number of women and underrepresented minorities in senior leadership roles.
3.1.2.1. Sustainable Development Goals involve: 5, 10 and 8
3.1.3. Sustainable: invest in reducing our own environmental footprint, including goals for absolute carbon emissions reductions, 100% renewable energy use, net positive water use, and zero total waste to landfill.
3.1.3.1. Sustainable Development Goals involve: 13, 6, 12, 7 and 9
3.2. Apply their deep experience as leaders in globals manufacturing and leverage their position within technology ecosystem to help their customers achieve sustainability.
4. Strategy (Corporate Social Responsibility Theories: Mapping the Territory. Elisabeth Garriga)
4.1. Focused on building stockholder value.
4.2. The priority is on invest in their own business, including investments in R&D and capital spending to strengthen their competitive position.
4.3. Our objective is to improve user experiences and value through advances in performance, power, cost, connectivity, security, form factor, and other features with each next generation of products.
4.4. Our ultimate goal is to achieve zero serious injuries through continued investment in and focus on our core safety programs and injury-reduction initiatives.
5. Human Resources
5.1. 83% of employees are proud of working at Intel.
5.2. 110,800 workforce is highly educated and approximately 90% of the workers are in technical roles.
5.3. Intel provides a wide range of opportunities to support their employees ongoing careers.
5.4. Intel provides high-skill, high-paying jobs at Intel sites around the world.
5.5. Intel ended 2019 with an Occupational Safety and Health Administration (OSHA) recordable rate of 0.68, compared to the most recently published U.S. semiconductor industry average recordable rate of 0.9.
6. Critics
6.1. They should focus also in the communities around their factories, and ways to help them.
6.2. The transparent Supply Chain, David J. Doorey
6.2.1. They should put more pressure on suppliers in order to integrate them into the sustainability chain.
7. Value Creation (HBR Creating Shared Value, Michael E. Porte)
7.1. Environmental
7.1.1. 39% reduction of greenhouse gas emissions.
7.1.2. 0 hazardous waste to landfill.
7.1.3. >4.5B KWH in energy savings.
7.1.4. 1B gallons of water restored and 38% water used reduction.
7.1.5. >71% of green power in their U.S. operations.
7.2. Financial
7.2.1. $19B returned to stockholders
7.2.2. $33B/$17B operating/free cash flow
7.3. Intellectual
7.3.1. 5 acquisitions
7.3.2. $13B R&D investment
7.4. Manufactured
7.4.1. $16B capital investment
7.4.2. 9 manufacturing sites
7.5. Human
7.5.1. <5% undesired turnover rate over the past 5 years
7.6. Social
7.6.1. Investments in social impact initiatives, such as the UN Sustainable Development Goals
7.6.2. 1M hours of employee volunteering
7.6.3. >600 supplier audits over the past 5 years
8. Founded in 1968 are world leaders in the design and manufacturing of essential technologies that power the cloud and an increasingly smart, connected world.