Sikkerhet
by
Elling Willassen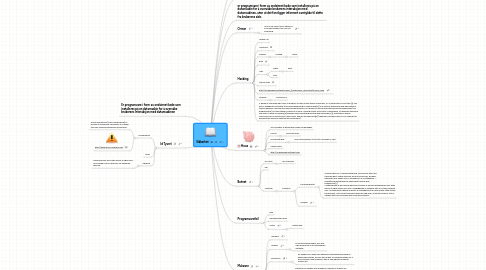 0.0
stars - reviews range from
0
to
5
(Kartet ble laget som et en-times gruppearbeid i IT1-timen)
En bakdør er en kode som aktiveres automatisk hver gang en datamaskin starter, og som kan brukes av uvedkommende for å kommunisere med maskinen uten at den legitime brukeren merker det.
Black
skurk
er programvare i form av ondsinnet kode som installeres på en datamaskin for å overvåke brukerens interaksjon med datamaskinen, uten at det foreligger informert samtykke til dette fra brukerens side.
Hacking
Jargon FIle
Hacktivist
Hacker som bruker teknologi for å annonsere en sosial, ideologisk, religiøs eller politisk beskjed.
Sharing
Bots
Bots are automated software tools, some freeware, that are available for the use of any type of hacker.
Hats
Sikkerhetstjenester og "cyberkrig" operativer som bedriver hacking for stater.
Grupper
A hacker is someone who loves to program or who enjoys playful cleverness, or a combination of the two.[3] The act of engaging in activities (such as programming or other media[4]) in a spirit of playfulness and exploration is termed hacking. However the defining characteristic of a hacker is not the activities performed themselves (e.g. programming), but the manner in which it is done: Hacking entails some form of excellence, for example exploring the limits of what is possible,[5] thereby doing something exciting and meaningful.[4] Activities of playful cleverness can be said to have "hack value" and are termed hacks[5] (examples include pranks at MIT intended to demonstrate technical aptitude and cleverness).
Alt fra spøker til økonomisk svindel og bedrageri
E-post
En planlagt løgn
Hokus pokus
http://no.wikipedia.org/wiki/Hoax
Manipulasjon
Lureri
Phishing
IRC Bots
hej
Nettverk
Programvarefeil
Bug
Oprativsystem krasj