Project Hawk™ Company Map
by
Hakan Mikado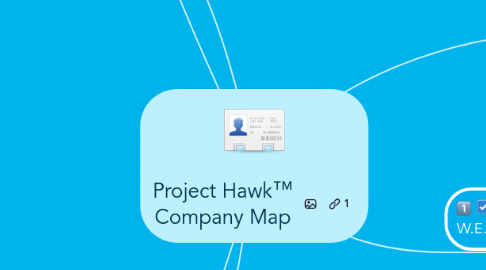 0.0
stars -
0
reviews range from
0
to
5
Production Hakan 'Hawk'
Research & Development
Analysis
Business Development
Sales & Marketing, Attract New Clients, Make Sales to existing clients, CRM, Track Leads, Follow up on leads every 30 days., Data entry & Status updates, Manage contact info and transfer into BaseCRM, Distribute Specials by Email/Mailer, Plan, Promote, & Conduct Events, Webinars, Trade Shows, Workshops, Speaking Engagements, In The Field Sales, Process Sales on the spot using your phone, tablet or laptop, Product/Services, Memberships, Events, Coaching Sessions, Sponsor Experts.
PR & SM, Sites, Facebook, Twitter, Linkedin, Yelp, Pintrest, Instagram, Local Ads, Magazines, newspapers, direct mailers, Daily communications, 7 Types of Postings Per Day, Encourage Clients to interact on SM., Create conversations, Case Studies, business events, world events, financial events, Answer questions, Reach out to make sales, Get Tesimonials, Get Feedback, Respond to feedback with support, Collect Contact info, Events, Promotions, deals, conversations, newsletter, Stay current on industry standards, Tehnologies, Techniques, Practices, Pricing, competitors, Local news, Industry news, relevant content, interesting articles, Update website, Tips, Related content, special trickds, saving money, news, Track analytics, Demographics, Age, Income, Sex, Location, interests/hobbies, everything, Research competitors, Track market trends, areas of interest, interations, Press Release, PRweb, Wordpress
Research struggling companies
Contact CXO/Sr Exc.s, Schedule a meeting, Travel to Clients Location, Assess Interest Level
Prepare documentation, Proposals, Interview preps, Market/Project research
Member Services Mr. & Mrs. Moses
ProjectSuccess Manager
1. Planning, Business Plan, Marketing Plan, Organization/Location Plan, Financial Plan, Business Goals, Product/Service Plan, SMAART, Specific, Measurable, Atttainable, Ambitious, Reason/Reward, Family & Community, Respect & Significance, Safety & Secruity, Excitment, Contribution, Growth as a Person, Time/Timely
2. Research, Case Studies, External Research, Internal Research, Primary Research, Secondary Research, Surveys, Lab Research
3. Development, Resources, Target Segmanetation, Product Desgn, Cost & Pricing, Partnerships, Labor Management, Web
4. Testing, Test Groups, Product Testing, Cost Benefit, Function Testing, Design Testing, Market Testing, Surveys
5. Presentation, Customer, Funding, Videos, PowerPoints, Webiste, Production Company, Ads
6. Implementation, Marketing Plan, Social Media, Partnerhsips, Press Release, Email Marketing, CRM, Invoicing & Billing
7. Production, IP, ™, Patents, ©, Design, Manufacturing, Licensing, Target Market, Distribution, Website
8. Expansion, New Location, New Product/Service, Market Penetration, Market Development, Market Transition, Product Development, 1. Planning
Membership Manager
C.E.O. Members, Entrepreneur, Startup, VIP Trial, Business Game Plan, 14 Days Unlimited PS Access, Employee Access, 120 Day Success Guarantee, Complete all 100 Steps of PS in full., $300+ Revenue or 4 Months FREE, Monthly 1 hour Business/Project Analysis, Unlimited PS Access, Real-time collaboration with Project Hawk Experts, Featured in our Business Directory, Success Package Delivered Every 9 Days, Access to 100+ Tools & Resources, VOIP Phone Number, Google Voice, 5 Connecting Phonelines, Access to Documents and Tools from Most SmartPhones, Special Member Savings on 1000';s of Brands, Referral Certificates, Weekly Support Call, up to 4% Credit Back, 20% Member Discount, 180 Money Back Guarantee, Complete all 100 Steps of PS in full., $999+ Revenue or Refund up to $1000, 1 Hour Online Support, Lunch & Learn
Online Support Manager
Chat Support, Email & Google+ Chat
Video Chat Support, Google+ Hangout, Skype
Tech Support, GoogleApps Suite
Password Support, Reset Password, YOUR PHONE #
Gov. Affairs W.E.M.
Legal
Corp
Documents
Lic. & Regulations
Patent, ™, ©, & IP
Finance
Accounting
Taxes
Insurances State Farm Jason Smith
Business Iability
Health
Work Comp
D.I.
Personal, Auto, Home, Life, Computer, D.I.
Work Auto
Life
Computer/Phone
Investors/Lenders
Administration
Scheduling
Performance Reviews
Terminations
Account Access
Payroll/Benefits
Attendance Logs
Commissions
Vacations
Staffing
Hiring/Firing
Internship
Service Department Staffing Liaison
Leadership Development
Quarterly Training Requirment
Course Schedule
Employee reimbursement allowance
Rating
ok
worth to see
still unsure
not ok
Actions performed
sent email
had interview
Decision
candidate has cancelled
candidate has approved
candidate is still unsure
Position
V.P.
Executive Director
Supervisor/Manager
Specialists
Intern
Employee
Fired
Other