How to Be A New Media Mogul
by
Mohawk Media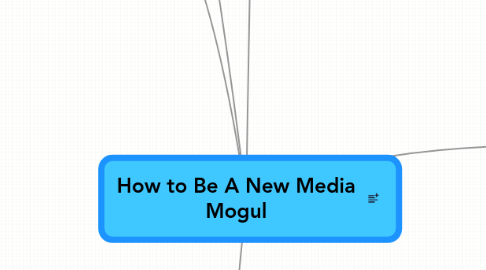 0.0
stars -
0
reviews range from
0
to
5
How to Be A New Media Mogul
Spark!09 at Wintec Hamilton. New Zealand
Indie Artists
Brand & Identity
Online ID, GoogleID, Blogger, You Tube, Gmail, Docs, Facebook ID, Open ID, Twitter, Skype, Your own domain name, Whois?, .co.nz - $30 p.a.
Brands take to time to grow, Tagging, Twitter #hashtags, The Semantic Web
High value of intangible assets, The Whuffie Factor
Work your social networks, 33 Million People in the Room
Grow a large digital footprint
New Publishing Channels
Online, iTunes, Webisodes
Mobile, Vodafone Live!, Mobisodes, Do not underestimate mobile markets
Print on Demand
Music, CD Baby, CDs & Digital downloads
Books, Lulu.com, Books, Calendars
Fabric, Spoonflower, Custom printed fabric, no minimum order
Art, Imagekind
Merchandise, Zazzle, Tshirts, Skateboards, Hoodies
Designs, Ponoko, Jewellery, Furniture, Art,
3D Objects, Shapeways, "we bring your 3D design to life"
Manage your own career
Own your own copyrights, Creative Commons, Encourage some remixes / mashups, Artists should fear obscurity not piracy
Sell it yourself, Keep largest %, Multiple formats, Multiple Income Streams, Think series or universe, Create a lifelong, profitable career
Twisted Re-Boot
Radio with pictures from a network of studios. Some shows live, some podcast.
The Law
Little know Auckland law
Launch a mag, site or station in 10 yrs or be sent to Australia!
Acquired Twisted Radio in 2009
Re-booting Sept 09 as Twisted Radio & TV, Radio with picturs
Crowdfunding
Kickstarter
Crowdfund your Creativity
Givealittle to Twisted
Promotions
Facebook Group
Merchandise, Zazzle, Twisted Store
Twitter Stream
Channels
Radio, LPFM Radio on 88.3 Waitakere, LPFM Radio allows only ½ watt (many cheat), P2P Radio, Trialled Audiorealm stream., Up to 20 concurrent listeners $35 p.m., Doesn't scale very affordably. Need sponsors., Outgoing bandwidth = 56kbit to seed stream, $15 p.m. in extra bandwidth, Stream + P2P – free to scale potentially to millions, Kit & Tools, Radio board from US = $500 (inc transmitter), Radio s/w SAM Broadcaster, TV / VJ mix into Arkaos., $150 webcams, Adobe Live Media Encoder. (Free), Output into Livestream Channel
TV, Livestream, Live to air, Video on Demand, Free with overlay ads, US $350 pcm to serve own ads, Twitcam - stream live on Twitter
Mobile, Qik.com, Stream or mobicast from your phone
Online, You Tube, Tag carefully for related links, Tube Mogul, Cross channel publishing & stats, Posterous, Publish to multiple spaces, Twisted Website, Aggregation station of RSS feeds, Dynamically generated pages, Silverstripe NZ Open Source CMS, Click to buy links, artists info, clips
Links
http://www.mindmeister.com/maps/show/26209232
Managing Directrix
Strategy, Finance & New Biz
Senior Producer
Writer, Animator, Director
Radio NZ & Kiwi FM
Mohawk Media
Animation, Radio & TV
VJ Mixes & Live Shows
Online Strategy, R&D
The MsBehaviour Files, Re-animating in multimedia format
The g33k show, Broadcast on Alt TV in 2008, Season 2 on Twisted TV in 2009
Twisted Radio & TV, Live to air & podcast shows
How?
Cloud based company
Collaborative network of studios
Stay Small & Lean
Bootstrapped to profit
Scaleable without external funding
Business Management, Xero - finance, Invoices, accounts, Pocketsmith, Free for personal finance, Both Made in NZ, Basecamp - project management, Try for free, Diigo - bookmarks / annotated links, Two way knowledge flows, Read Tshirts & Suits, Free ebook
Why?, Multiple Income Streams, Home studios, Independent, Flexible, Fun is our prime directive!
the g33k show
Short pods for web & mobile
Broadcast 2008 on Alt TV, SKY 65
Podcast Online
Hacked together by a team of two
Hacking = re-purposing tools & ideas
Driven by time and $ 0 budget
Kit
Graphics card held together with elastic bands
Ancient PC
Borrowed Broadcast Camera
Half an hour of animation a week
Animation quicker than filming
Off Prescription Tools
Google Earth, Camera fly throughs
Google Sketchup, 3D objects
Mobile Phone Camera, Nokia 6021, Easier, more authentic
Mobile Animation Tools, Facial animation for avatars
Last year we were crazy - this year we're clever