alter (verb)
by
Cameron Igarashi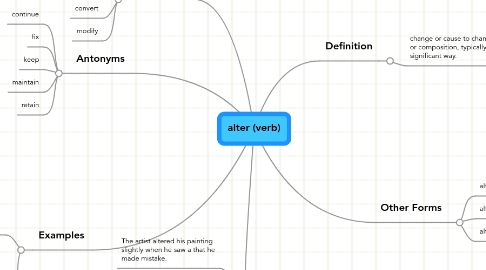 0.0
stars -
0
reviews range from
0
to
5
alter (verb)
Definition
change or cause to change in the character or composition, typically in a small but significant way.
Synonyms
adapt
transform
remodel
convert
modify
Other Forms
altered
altering
alters
Antonyms
continue
fix
keep
maintain
retain
Sentences
The artist altered his painting slightly when he saw a that he made mistake.
When I was the number one draft pick in the MLB draft it was a life altering experience.
The clothing designer alters his design depending on what trends are in at the time.
Examples
Altered painting
Altered paint cans