Remote Working: Status and Threats
by
Luke O'Connor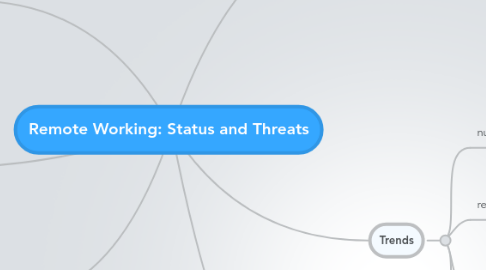 0.0
stars - reviews range from
0
to
5
Remote Working: Status and Threats
Behaviour or belief
The Internet is a safer place now
User perception of acceptable use
Willingness to open attachments or follow links
Use of personal devices for work purposes
No logical separation from work and play
Using work devices for and personal purposes
Allowing non-employees to borrow work computers and devices for personal use
quick
Trends
number of home or teleworkers in increasing
remote working is both a required and productive
blurring of boundaries between work and home
mellowing of security message
Threat
malware
user misplaced confidence
over emphasis on perimeter security
use own device
Not convinced
Sources
Cisco report Feb 2008
Conclusions and Actions
Perhaps the only way to improve the situation will be for companies to enact stricter usage policies for their remote works regarding corporate-owned devices and embracing continued education for end-users about the nature and prevalence of threats, Cisco officials maintain.
We need to continue to highlight the problems; companies are doing a much better job than they used to, but with all the blended threats, they need to reload and strengthen the human firewall, which is really the last line of defense," Gray said. "The companies that do the best job have ongoing continuing education for users that tells them that their computer is a business tool and who use monitoring tools to ensure that their security policies are being followed
Cisco is calling for greater security diligence so that firms and individuals can enjoy the benefits of remote working without exposing their organisations to security risks. Security awareness and education are at least as important as technology in these efforts, Cisco notes.
Companies also will need to do a better job of deploying remote security technology that limits what users can access via their work machines, Gray advises. "Education alone is not going to do it," he says. "There has to be a technology component as well."
At end of day it's not their computer, it's a business tool, and people need to understand how much risk their activity poses for their employers, and that they need some level of separation in terms of their personal use,
In response we have brought in a new infrastructure that allows remote access from anywhere but the services all operate within our data centre - the remote access is purely a Citrix window.
backing up employee usage policies with automated enforcement systems can help mitigate the risk.
With secure VPN and disk encryption there is no reason why technically homeworking should be any less secure than in the office.