PLANNING YOUR WORK
by Christian Gordillo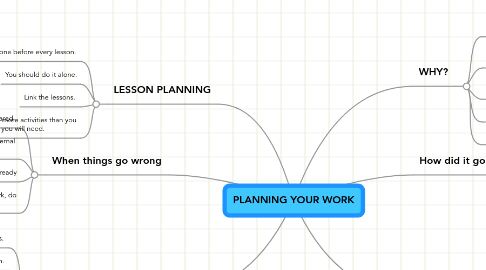 1. WHY?
1.1. Obseve what happened and adapt it for future use.
1.2. Full of variety of activity for children.
1.3. Maximum enjoyment and learning.
1.4. It saves time
1.5. Security and confidence.
2. LESSON PLANNING
2.1. Be done before every lesson.
2.2. You should do it alone.
2.3. Link the lessons.
2.4. Have more activities than you think you will need.
3. LONG TERM PLANNING
3.1. Discuss with other teachers using the same book, what they think about methods.
3.2. Look through the list of textbook's contents and the teacher's guide.
3.3. Try to work with other subject.
3.4. Things which are used in other subjects can be used in the English lesson
4. SHORT TERM PLANNING
4.1. Three to ten lessons.
4.2. Write assessment into the plan.
4.3. Decide what language items you are going to teach.
4.4. New teacher: follow them as far as you can.
5. How did it go?
5.1. Did the pupils learn what I wanted them to learn?
5.2. Take time to ask questions after lessons.
5.3. See what you can learn from it, then file it away for future reference.
6. When things go wrong
6.1. You must be prepared.
6.2. Make use of the external disturbance.
6.3. "Emergency activity" ready
6.4. If an activity doesn't work, do something else.