Our Dissertaiotn
by
Prashant Maheshwari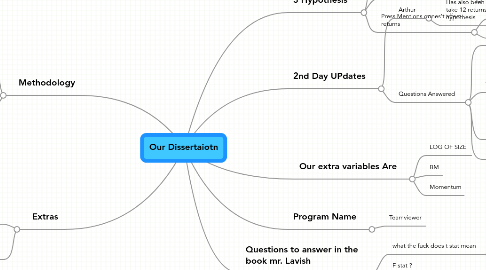 0.0
stars -
0
reviews range from
0
to
5
Our Dissertaiotn
3 Hypothesis
Liquidity doesn't affect Returns
Pre-Trading Volume
Optimism doesn't affect returns
Net Optimism, We ignore Net certainity
Press Mentions dones't affect returns
Press Mention
We CAN take analyst following, But Dummy Variable
Methodology
1st
Run the test with main varaiable FIRST, significance, safe then proceed to 2
2
Add more variables, But we need literature review to back it up, Why are we adding it in the first place ?
Our extra variables Are
LOG OF SIZE
BM
Momentum
Extras
We are going to take Summary Stats of all the companies namely as per Kausar 2009 Paper
Mean
Median
Standard Deviation
Basically F stat if less than .1 is significant
Questions to answer in the book mr. Lavish
what the fuck does t stat mean
What does significant mean?, Good / Bad when to ignore
F stat ?
Program Name
Teamviewer
2nd Day UPdates
Arthur
Has also been advised to do take 12 returns for 1 hypothesis, his analysis is 16-18 pages in all, Including tables
Questions Answered
Significance level, 1%,5%,10%
Values, .05 to .10, 10% significant, Basically if our figure is .049 it woudl come here , if it increase to say .051 it comes in second one, T Value 1.282, .01 to .05, 5% significant, T Value, 1.645, .01 and under, 1% significant, T Value, 2.320
Take the aboslute value
R Square, Basically as close as to 1 as possible