HOW TO READ A PAPER
by Lara Kimberly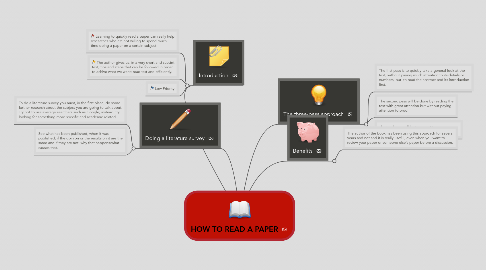 1. The three-pass approach
1.1. The first pass is to quickly take a general look at the text, without paying much attention to its details or numbers, but to read the abstract and its introduction first.
1.2. The second pass will be done by reading the text with great attention but without paying attention to proof.
1.3. The third pass will be to recreat the paper, uusing what you understand as your grounding.
2. Benefits
2.1. The author of the book has been using this approach for several years and not and it is really useful, even when you want to review your paper or someone else's paper before a discussion.
3. Introduction
3.1. Learning to quickly read a paper can really help researches who are not willing to spend much time doing a paper on a certain subject.
3.2. The author gives us, in a very short and succint text, tips and steps that can be followed in order to achive what we want: read fast and efficiently.
3.3. Low Priority
4. Doing a literature survey
4.1. To do a literature survey you must, in the first place, do some further research about the subject you are going to talk about. Try not to use average searchers such as Google; instead, try looking for something more specific and academic-related.
4.2. See what has been published, when it was published, if the opinion or the results on it are the same and if they are not, why that happens/what causes that.