Fresh Slice Pizza
by Billy Bigelow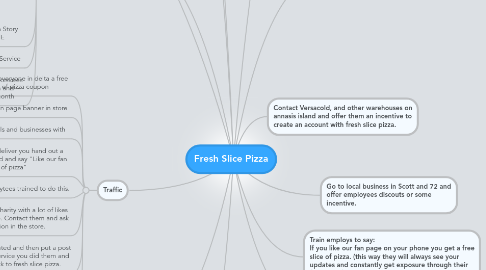 1. Targeting people who are having a birthday in the area
2. Train employs to say: If you like our fan page on your phone you get a free slice of pizza. (this way they will always see your updates and constantly get exposure through their facebook fan page.
3. Traffic
3.1. Mail everyone in delta a free piece of pizza coupon
3.2. Post fan page banner in store
3.3. Post in schools and businesses with
3.3.1. Give them discounts on groups
3.4. From now on when you deliver you hand out a coupon or a business card and say "Like our fan page and get a free slice of pizza"
3.5. Get Employtees trained to do this.
3.6. Find a fan page of a local charity with a lot of likes and exposure to their page. Contact them and ask them if we can put a donation in the store.
3.7. Hit a goal of 1000$ donated and then put a post on their page with the service you did them and redirecting their fans back to fresh slice pizza.
3.7.1. Also you can ask them if they can refer you business even before you start donating.
3.8. Get employees always talk about the pizza and how good it is to increase sales.
4. Contact Versacold, and other warehouses on annasis island and offer them an incentive to create an account with fresh slice pizza.
5. Google what your competition is doing and look at their fan page.... As long as you have more fans you will get ranked higher in google and facebook, and will have more advertisements going on facebook because it will be an active fan page with promotions and success stories.
6. Define a Mission Statement and Vision for the company that seperates you from your competition.
7. Go to local business in Scott and 72 and offer employees discouts or some incentive.
8. Get guy that holds sign to do something out of the ordinary to draw more attention. Or just get him to actually communicate "come to fresh slice"
9. Look for places to put your posters in the area. And business cards.
10. Facebook Strategy
10.1. AD 1
10.1.1. Targeting people between the ages of 17 and 40 Who Also Who Also Like Mcdonalds, ANW, Beer, Who work at local areas around fresh slice pizza like london drugs, Chapters, Whitespot,. Liqour Store, Save on foods.
10.2. Facebook PPC
10.2.1. AD 2
10.2.1.1. Target Business Managers who work in places that get big orders for events
10.2.2. AD 3
10.2.2.1. Kids between the ages of 15 and 30 that go to seaquam, Chalmers, Burnsvew, NDSS,
10.2.3. AD 4
10.2.3.1. Targeting people who are having a birthday
10.3. Create a posting campaign to post 2-5 times per day
10.3.1. Post 1
10.3.1.1. Viral Video
10.3.2. Post 2
10.3.2.1. Biggest Event on TV the Night Before
10.3.2.2. Post 3
10.3.2.2.1. The Sadest thing on the news the night before. And how your love!
10.4. Blog on Fresh Slice Pizza Story AFTER YOU CREATE ONE
10.5. Blog on Customer Service
10.6. Blog about another local business that promotes you who has lots of likes and @TAG them and say something nice about them once a month
11. Business To Business
11.1. Go to Kwantlen and local schools and businesses and places on annasis island and offer everyone an incentive if they create an account with fresh slice and call us now when they throw an event. Why? because we are healthy. And close. And incentives.
11.1.1. When you deliver to businesses and work places make sure you get enough business cards with your fan page on it and tell people to get a free piece of pizza.
12. When your out and about make sure you expose people to like our page for a free slice of pizza
12.1. Also tell them to tell other people if they want a free slice of pizza like our page.
12.2. When people like your page their network will see that they liked your page and they will like too.
13. Key words
13.1. Fresh slice pizza delta, freshslice delta, pizza delta 80th,