4 Inauguration events 26-27AD
by Mike Johnson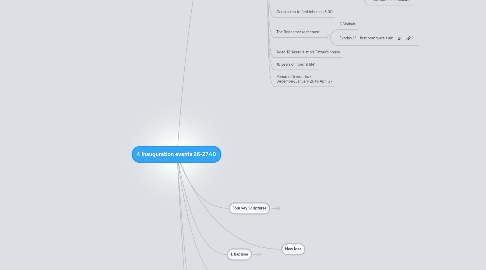 1. 1. Baptism
1.1. Jesus leaves Nazareth New Year 27AD for Bethany 20 miles away
1.2. Key John the Baptist scriptures:
1.2.1. Prophesy
1.2.1.1. Is 40:3-5 3The voice of him that crieth in the wilderness, Prepare ye the way of the LORD, make straight in the desert a highway for our God. 4Every valley shall be exalted, and every mountain and hill shall be made low: and the crooked shall be made straight, and the rough places plain: 5And the glory of the LORD shall be revealed, and all flesh shall see it together: for the mouth of the LORD hath spoken it.
1.2.1.2. Mal 3:1 Behold, I will send my messenger, and he shall prepare the way before me
1.2.1.3. Mal 4:5 Behold, I will send you Elijah the prophet before the coming of the great and dreadful day of the LORD
1.2.2. Miraculous Birth Luke 1
1.2.3. Message
1.2.3.1. Matt 3:1 Repent ye: for the kingdom of heaven is at hand
1.2.3.2. Luke 3:8 Bring forth therefore fruits worthy of repentance, and begin not to say within yourselves, We have Abraham to our father: for I say unto you, That God is able of these stones to raise up children unto Abraham
1.2.3.3. Mark 1:4-8 There cometh one mightier than I after me, the latchet of whose shoes I am not worthy to stoop down and unloose. 8I indeed have baptized you with water: but he shall baptize you with the Holy Ghost.
1.2.4. Hendriksen
1.2.4.1. Not only a prophet, but a man in whom prophesy was fulfilled, even the immediate herald of the Christ, and performing his task with genuine humility, he was truly great, so great, in fact, that Jesus once testified: "Among them that are born of women there hath not risen a greater than John the Baptist" Matthew 11 Yet he never belonged to the inner circle of Christ's disciples, and he did not partake of the privileges of those who associated with their Master from day to day and saw him not only in his suffering and death but also in the glory of his resurrection. Hence it does not surprise us that we also read: "notwithstanding he that is least in the kingdom of heaven is greater than he." Is this fair of Hendriksen?
1.2.4.1.1. Edersheim sees John as holding the Door to the Kingdom, not ever entering it, that is another reason why any who enter the kingdom are superior to him.
1.3. The Baptism
1.3.1. Matthew 3:13-17
1.3.2. Luke 3:21
1.4. John's Baptism
1.4.1. Purification?
1.4.2. Admission
1.4.3. Preparation (Edershiem)
1.4.3.1. Ex 19:10,14 Cleansing of clothes to appear before God.
1.4.3.2. Gen 35:2 Jacob returning to Bethel and preparing to stand before God 'Put away the strange gods that are among you, and be clean, and change your garments'
1.4.3.3. Thus, after Christ's coming, John's baptism was so inferior, unavailing and even meaningless (Acts 19:3)
1.5. Meaning of Jesus Baptism
1.5.1. Glory of God is manifest to the people's senses.
1.5.2. Voice from Heaven 'Thou art my beloved Son; in thee I am well pleased Luke 3:21-22
1.5.3. The baptism of John, whence was it? from heaven or of men? Matt 21:25
1.5.3.1. No ulterior motive
1.5.3.2. Psalm 45:7 Thou lovest righteousness, and hatest wickedness: therefore God, thy God, hath anointed thee with the oil of gladness above thy fellows.
1.5.3.3. Voluntary 'fulfiling all righteousness' - contrast this with the Spirit 'driving' him into the wilderness to be tempted of the devil
1.5.4. Equipping
1.5.4.1. Christ means 'Anointed'
1.5.4.1.1. Acts 10:38 Peter preaching at Cornelius' house: 'How God anointed Jesus of Nazareth with the Holy Ghost and with power: who went about doing good, and healing all that were oppressed of the devil; for God was with him.'
1.5.4.2. The one who would baptize with the Holy Ghost, must first be baptized with the Holy Ghost (Robert Stein)
1.5.4.2.1. 'I indeed have baptized you with water: but he shall baptize you with the Holy Ghost.' said John (Mark 1:8)
1.5.4.3. cf. Isaiah 61:1-2 first sermon at Nazareth from: 'The Spirit of the Lord GOD [is] upon me; because the LORD hath anointed me to preach good tidings unto the meek; he hath sent me to bind up the brokenhearted, to proclaim liberty to the captives, and the opening of the prison to [them that are] bound'
1.5.5. shows humanity - identifies with us
1.5.6. glorious lowering of himself
1.5.7. sin bearer - who knew no sin!
1.5.8. fulfilling all righteousness!
2. 2. Temptation
2.1. Up from Jordan to the Wilderness
2.2. Matthew 4, Mark 1, Luke 4
2.3. What is temptation?
2.4. Could Jesus be tempted as we are?
2.4.1. Hebrews 4:15 For we have not an high priest which cannot be touched with the feeling of our infirmities; but was in all points tempted like as we are, yet without sin.
2.5. What 'hooks' did Satan offer Jesus?
2.5.1. How were they plausible?
2.5.1.1. plausible and harmless
2.5.2. Make bread from stones (betrayal of choice to depend on God - use your power to sustain yourself)
2.5.2.1. Deut 8:3 Life depends not on bread but the sustaining power of God.
2.5.3. then demonstrate that you trust the Father
2.5.3.1. but compare
2.5.3.1.1. Matthew 4:6 If thou be the Son of God, cast thyself down: for it is written, He shall give his angels charge concerning thee: and in their hands they shall bear thee up, lest at any time thou dash thy foot against a stone.
2.5.3.1.2. Psalm 91:10 There shall no evil befall thee, neither shall any plague come nigh thy dwelling. 11 For he shall give his angels charge over thee, to keep thee in all thy ways.
2.5.3.2. amidst the sanctuary!
2.5.3.3. Deut 6:16 Ye shall not tempt the Lord your God
2.5.4. Easy passage
2.5.4.1. Deut 6:13
2.5.4.2. art thou then a king,said Pilate
2.6. We are never given the impression that Jesus could simply brush off Satan without it being worth Satan's while having a go.
2.7. By resisting he obtained more than Satan offereed!!
2.7.1. Bodily sustenance
2.7.2. Ministry of angels Matt 4:11 'Then the devil leaveth him, and, behold, angels came and ministered unto him.'
2.7.3. Phil 2:5-11 the Kingdoms of the World and their glory
2.8. Jesus Victory here shows Jesus as
2.8.1. Our sympathetic High Priest
2.8.2. the Second Adam - Note Luke 3:38
2.8.3. Conqueror
2.8.3.1. John 12:13 Now is the judgment of this world: now shall the prince of this world be cast out.
2.8.3.2. Col 2:15 And having spoiled principalities and powers, he made a shew of them openly, triumphing over them in it.
3. 4. First Sign
3.1. John 2:1-11
4. 3. Calling of the Disciples
4.1. John rejoiced when his disciples followed the 'Lamb of God'
4.2. John 1:35-42 2 pairs of brothers
4.2.1. Andrew
4.2.2. Peter
4.2.3. James
4.2.4. John
4.3. John 1:43-51
4.3.1. Philip
4.3.2. Nathaniel
4.4. What strikes us about the first disciples?
4.4.1. Note exalted titles given immediately
4.4.1.1. Messiah
4.4.1.2. him of whom Moses in the law and the prophets wrote
4.4.1.3. the Son of God, the king of Israel
5. Introduction
5.1. Into New Testament times
5.2. 1700 years from Creation (4000BC) to Flood (2300BC) 1000 years each from Abraham (2000BC) to David (1000BC) to Christ. Exodus was 1450BC
5.3. Who is in charge in Judea at the time of Christ?
5.3.1. Infighting led to Pompey's invasion of Jerusalem in 63BC
5.4. Although, as it says in Revelation 12:4 'the dragon stood in front of the woman who was about to give birth, that the moment she gave birth to the child he might devour it'
5.5. Timeliness of Christ's birth
5.5.1. Greeks exhausted wisdom
5.5.2. Jews had not achieved righteousness
5.5.3. Romans' morals were in need of sanctification
5.5.4. All needed redemption
5.5.5. Amazing preparation
5.5.5.1. language
5.5.5.1.1. Septuagint OT translation
5.5.5.2. Jewish spread synagogues everywhere in the ancient world
5.5.5.3. Roman roads and peace
5.5.6. Genealogies
5.5.6.1. Matthew gives the descent of Joseph
5.5.6.2. Luke gives the descent of Mary
5.5.6.3. In both cases, notorious sinners are included!
5.6. John
5.6.1. Name means 'Jehovah is/has been gracious'
5.6.1.1. strange
5.6.1.1.1. Repentance and judgement
5.6.1.2. suitable
5.6.1.2.1. child to the childless
5.6.1.2.2. The path to God
5.7. Virgin Birth emphasised in Matthew and Luke
5.7.1. Matthew 1:16, 18, 21-23,25
5.7.2. Luke 1:34,35,2:50, 3:23
5.7.3. The God Man mediator
5.8. Census trip to Bethlehem in 5 BC
5.9. The Redeemer redeemed!
5.9.1. 5 Shekels
5.9.2. Exodus 13 - first born were slain
5.10. Aged 12 Jesus is at his Father's house
5.11. 18 years of 'normal life'
5.12. Period of 5 months - December/January 26 to April 27
6. Four key Scriptures
6.1. Mark 1:11 there came a voice from heaven, saying, Thou art my beloved Son, in whom I am well pleased.
6.2. Matt 4:6 If thou be the Son of God, cast thyself down
6.3. John 1:29 The next day John seeth Jesus coming unto him, and saith, Behold the Lamb of God, which taketh away the sin of the world.
6.4. John 2:11 This beginning of miracles did Jesus in Cana of Galilee, and manifested forth his glory; and his disciples believed on him.
7. New Idea