Course Design on Microblogging Platform CIRIP.eu
by
Gabriela Grosseck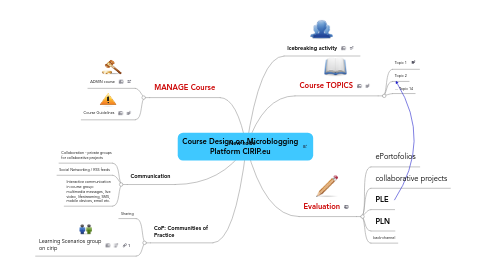 0.0
stars -
0
reviews range from
0
to
5
Course Design on Microblogging Platform CIRIP.eu
This is a learning scenarios created with a mindmap for a large course for a technical discipline  (Web 2.0 in Psychology) , first year students at Psychology, West University of the West Timisoara. low digital competencies.
Icebreaking activity
Short ontroduction of participants
Course TOPICS
There are 14 topics in each semester (one topic per week).
Topic 1
Each module (could) include: assignments / assessments specific to weekly topics (Anunturi) communication with students (mposting messages through Anunturi or through "What are you doing" box) collaborative works through multimedia, digital storytelling etc. (voicethread, dotsub, mindmaps etc.) discussions (between group members, with teacher or with other platform users) brainstorming (for a specific subjects) tools to present the weekly topic like: text with or without links case studies / articles / examples (documents) multimedia objects (podcasts, videocasts, videos, images etc.) quizzes, tests RSS feeds diagrams, mindmaps digitalstorytelling    
Topic 2
... Topic 14
MANAGE Course
  O altă facilitate a utilizării cirip ca și platformă de curs este că asigură atât partea administrativă prin activitățile clasice "de secretariat" (înscrierile se fac automat pentru conturi publice (cu aprobare în cazul cursurilor derulate în grupuri închise) cât şi calitatea dirijării metodologice (titularul de curs are la dispoziție în orice moment feedback prin statistici, tabele și grafice referitoare la când și cum învață studenții săi, ceea ce-l ajută dacă doreşte / sau dacă este cazul să facă anumite remedieri pedagogice asupra conţinuturilor sau să schiţeze alte direcţii de urmat în procesul de învăţare).  
Course Guidelines
Aici vin incluse  prezentarea generala a cursului, a laboratorului de informatica sociala, fisa disciplinei, recomandarile bibbiliografice, modalitatile de evaluare, programarea examelor (testelor etc.) si alte aspecte legate de partea administrativa a cursului. Deoaerece resursele cursului sunt accesibile printr-o serie de modalități (web, mobil) ele sunt si disponibile într-o serie de formate (diverse obiecte multimedia) și adecvate conținuturilor. "Anunțuri (le)"sunt centrul de resurse al cursului. De mentionat ca: ergonomia interfeței permite găsirea rapidă a conținuturilor. In plus, faptul ca interfata este si in egnleza si germana faciliteaza accesul studentilor straini (care studiaza prin Erasmus de exemplu).   See for example: The Microblogging presentation of cirip on SlideShare http://www.slideshare.net/ggrosseck/microblogging-multimedia-based-teaching-methods
New node
Evaluation
ePortofolios
collaborative projects
PLE
PLN
back-channel
Communication
Collaboration - private groups for collaborative projects
Social Networking / RSS feeds
Interactive communication in course group: multimedia messages, live video, lifestreaming, SMS, mobile devices, email etc.
CoP: Communities of Practice
Sharing
In the begining it is useful to check the Learning Scenarios group on cirip to see how other educators deal with the same issues.