IPAD APPS - MATHS - PRIMARY - NON-QUIZ
by Nord Anglia Education Department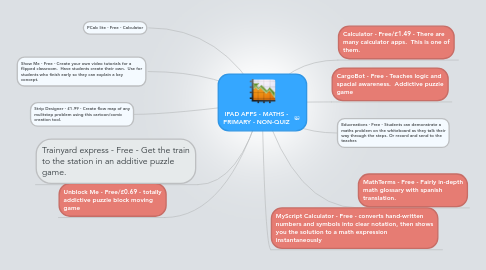 1. Calculator - Free/£1.49 - There are many calculator apps. This is one of them.
2. Educreations - Free - Students can demonstrate a maths problem on the whiteboard as they talk their way through the steps. Or record and send to the teacher.
3. MathTerms - Free - Fairly in-depth math glossary with spanish translation.
4. PCalc lite - Free - Calculator
5. MyScript Calculator - Free - converts hand-written numbers and symbols into clear notation, then shows you the solution to a math expression instantaneously
6. Show Me - Free - Create your own video tutorials for a flipped classroom. Have students create their own. Use for students who finish early so they can explain a key concept.
7. Unblock Me - Free/£0.69 - totally addictive puzzle block moving game
8. CargoBot - Free - Teaches logic and spacial awareness. Addictive puzzle game
9. Strip Designer - £1.99 - Create flow map of any mulitstep problem using this cartoon/comic creation tool.
10. Trainyard express - Free - Get the train to the station in an additive puzzle game.