Siemens in China
by sergii molchanov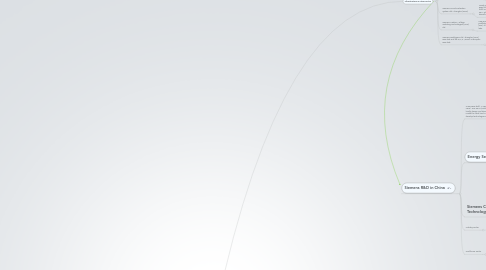 1. Infrastructure & Cities Sector
1.1. six R&D hubs
1.2. Siemens Power Automation Ltd. (SPA),
1.2.1. part of Smart Grid Division; creates local products and solutions tailored to the Chinese customer's needs, and also works on EA international R&D projects; The team, including project managers, product lifecycle managers, developers and testers. Areas of protection algorithm and energy automation applications. SPA R&D has 130 people and plans to expand to 160 people by 2014.
1.3. Beijing Siemens Cerberus Electronics Ltd. (BSCE
1.3.1. 200 R&D engineers - T. fire safety and HVAC (heating, ventilation, and air conditioning) products; software and hardware development
1.4. Siemens Signalling Co. Ltd., Xi'an (SSCX),
1.4.1. joint venture of Mobility and Logistics ; R&D hub of MOL Rail Automation Division (MOL)
1.5. Siemens Circuit Protection System Ltd., Shanghai (SCPS)
1.5.1. circuit protection devices with outstanding performance; 45 people in R&D hub; competitive circuit protection products, which perfectly fulfill customers' needs with smart design and reliable quality.; from 2011 global development center for low-voltage electronic safety devices
1.6. Siemens Medium Voltage Switching Technologies (Wuxi) Ltd.
1.6.1. new products development and localization of whole portfolio of medium-voltage gas insulated switchgear (GIS). It has 44 R&D engineers and well-equipped test labs.
1.7. Siemens Switchgear Ltd., Shanghai (SSLS) R&D hub and the SMVS Vacuum Interrupter R&D hub.
1.7.1. part of the global R&D hub of Medium Voltage & Systems Business Unit (MS) under the Low and Medium Voltage Division; designing and developing medium-voltage air insulated switchgear, vacuum circuit breaker and vacuum contactor, while the R&D hub in Wuxi is committed to designing and developing medium-voltage vacuum interrupter. more than 100 people
2. In Fiscal Year 2012 (October 1, 2011 – September 30, 2012), revenue for Siemens in China (excluding Osram) amounted to EUR 6.35 billion. With a workforce of more than 30,000, Siemens is one of the largest foreign-invested employers in the country.
3. Siemens R&D in China
3.1. 2,300 R&D staff, 17 R&D hubs and 3,495 patents active in China as of Fiscal Year 2012 (October 1, 2011 - September 30, 2012). The emphasis is to locally design and develop the right products and solutions for the Chinese market to meet local customers' needs, and also to use China's advantages to develop technologies in the country for global application.
3.2. Energy Sector
3.2.1. Siemens Power Plant Automation Ltd. (SPPA)
3.2.1.1. in Nanjing; promoting the concept of modern digital power plants; plant automation; software and hardware
3.2.2. Siemens Steam Turbine R&D Hub
3.2.2.1. in Shanghai; l focus on component developments; R&D activities on the next generation steam turbine products development for large coal-fired power plants
3.2.3. Siemens Gas Turbine Engineering China Hub
3.2.3.1. part of Gas Turbine Business Unit of the Fossil Power Generation Division (E F) and CT China; new gas turbine frame R&D, existing frame modification & upgrade, customer order engineering, field service support, supply chain management support and manufacturing support; engineering center of excellence to add value to the overall gas turbine value chai
3.2.4. Siemens Industrial Turbomachinery (Huludao) Co., Ltd. (SITHCO)
3.2.4.1. in Huludao, Liaoning Province; set up a local R&D hub with support from headquarters; s engineering and manufacturing of turbo compressors and steam turbines for petrochemical and power generation industries as well as waste water treatment plants
3.2.5. The Power Transmission Division
3.2.5.1. The E T China R&D and S.M.A.R.T. Development Center was established in 2011; The center integrates the R&D competence of Siemens High Voltage Switchgear (Shanghai) Ltd. (SHVS), Siemens High Voltage Circuit Breaker Co., Ltd., Hangzhou (SHVC) and Siemens transformer (Guangzhou) Co., Ltd. (ETGZ), and is strongly committed to developing innovative and customer-oriented high voltage-gas insulated switchgear, high-voltage circuit breaker and transformer
3.3. Siemens Corporate Technology China (CT China)
3.3.1. innovation strategy of CT China =>high-end markets with Mainstream Innovation, and S.M.A.R.T. Innovation; Cost Innovation. The research fields cover Industry, Energy, Healthcare and Infrastructure & Cities to address the main challenges facing China.
3.3.2. CT Corporate Intellectual Property - 380 top-notch innovators are working in world-class CT China innovation labs in Beijing, Shanghai and Nanjing
3.4. Industry Sector
3.4.1. eight R&D hubs
3.5. Healthcare Sector
3.5.1. Siemens Shanghai Medical Equipment Ltd.
3.5.1.1. routine examinations and clinical research, only one team, connected to Germany; In 2005, SSME established X-Ray R&D and manufacturing hub
3.5.1.2. Component and Vacuum Technology Business Unit established the R&D and manufacturing hub
3.5.1.3. Siemens X-ray Vacuum Technology Ltd. Wuxi (SXVT)
3.5.1.4. Siemens Shenzhen Magnetic Resonance Ltd. (SSMR)