Software Testing Education Resources in a nutshell
by
Maciej Zaborowski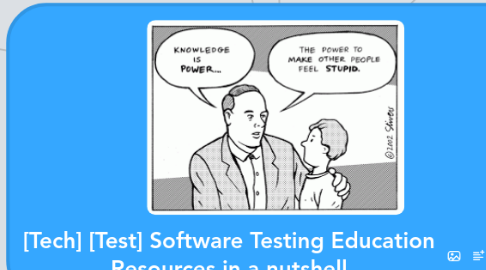 5.0
stars -
2
reviews range from
0
to
5
This MindMap presents only possible resources but it doesn't discuss about the approach in education of the software testing. It focus only on the general resources in the Software Testing area. In fact of this it doesn't contain materials of domain knowledge like automation, performance, security etc. --- If you have any questions please feel free to contact me at mz@ithq.eu
[ Schools ]
Would U like to go to the school ? --- Schools in Poland
Vistula
Szczecin ?
Kraków ?
Poznań ?
Bydgoszcz ?
Łódź ?
Katowice ?
Lublin ?
Białystok ?
Kielce ?
Rzeszów ?
[ Self ]
[ Experience ]
What we're doing and what can we do.
"Testers solve a problem (test this, evaluate tools, learn new approaches…) in pairs or individually to sharpen their skills." A Testing Dojo is a meeting where testers come together to work on a testing challenge. The testing challenge can consist of testing a product, or generate test ideas for a particular software, or even exercise bug reporting. Mainly the testing challenges will use Exploratory Testing. http://www.testingdojo.org http://www.shino.de/2010/04/16/testing-dojos http://testerzy.pl/artykuly/testing-dojo-po-polsku
[ Tutorials ]
It depends on the own goals and needs.
[ MindMaps ]
To be up to date ;)
[ Individuals ]
People who are worth of following. Follow Individuals on their posts and tweets.
[ WHO? ]
Known people in the Software Testing area. Just a few people from a huge list ;)
Resources from conferences (archives): Presentations Videos
Polish ST Conference organized by SJSI
Google Test Automation Conference
Brighton - UK A TestBash is a one day conference from The Ministry of Testing. It is designed to inspire and educate, but equally as important it is about meeting other testers and building upon your knowledge & community.
Gothenburg - Swedish / 2013, in general Europe biggest
Stockholm - Sweden AU
Tallinn - Estonia
[ C&I Community & Initiatives ]
One of the most (important?) ways of the knowledge sharing. Start crafting your software testing skills.
[ ST Community ]
Strong focus on learning, collaboration and resources.
[ Social ]
[ FORMAL ]
[ Certifications & Courses ]
[ Standards ]
[ Publications ]
There are a lot of books about Software Testing and QA. Should I read all of them ? Amazon: look at the reviews and date of publication.