Software Testing Education Resources in a nutshell
by
Maciej Zaborowski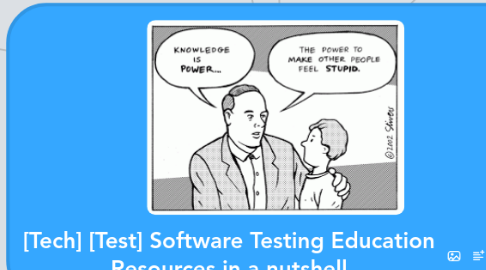 5.0
stars -
2
reviews range from
0
to
5
This MindMap presents only possible resources but it doesn't discuss about the approach in education of the software testing. It focus only on the general resources in the Software Testing area. In fact of this it doesn't contain materials of domain knowledge like automation, performance, security etc. --- If you have any questions please feel free to contact me at mz@ithq.eu
[ Schools ]
Would U like to go to the school ? --- Schools in Poland
Vistula
Szczecin ?
Kraków ?
Poznań ?
Bydgoszcz ?
Łódź ?
Katowice ?
Lublin ?
Białystok ?
Kielce ?
Rzeszów ?
[ Self ]
[ Experience ]
What we're doing and what can we do.
@ work
Crowdsourcing, profit, www.testuj.pl, www.utest.com, www.99tests.com, non-profit, Mozilla QA, Find Open Source project and offer your help ;)
"Testers solve a problem (test this, evaluate tools, learn new approaches…) in pairs or individually to sharpen their skills." A Testing Dojo is a meeting where testers come together to work on a testing challenge. The testing challenge can consist of testing a product, or generate test ideas for a particular software, or even exercise bug reporting. Mainly the testing challenges will use Exploratory Testing. http://www.testingdojo.org http://www.shino.de/2010/04/16/testing-dojos http://testerzy.pl/artykuly/testing-dojo-po-polsku
Miagi-Do School of Software Testing
WTA - Weekend Testing America
Testing Cup
STWC - Software Testing World Cup
Testing Challenges
Any new IDEAs ?
[ Tutorials ]
It depends on the own goals and needs.
www.guru99.com
www.softwaretestinghelp.com
www.ministryoftesting.com/resources/
www.softwaretestinghelp.com
www.vietnamesetestingboard.org
need more!
Google
[ MindMaps ]
http://www.thetestingmap.org/
To be up to date ;)
www.testerzy.pl
www.testinggeek.com
www.latestsoftwaretestingnews.com
www.googletesting.blogspot.com
sth more ?
[ Individuals ]
People who are worth of following. Follow Individuals on their posts and tweets.
[ WHO? ]
Known people in the Software Testing area. Just a few people from a huge list ;)
Markus Gärtner
James Bach
Michael Bolton
Michael Larsen
James Lyndsay
Paul Gerrard
Erik van Veenendaal
Pradeep Soundararajan
and more...
Resources from conferences (archives): Presentations Videos
Polish ST Conference organized by SJSI
Google Test Automation Conference
Brighton - UK A TestBash is a one day conference from The Ministry of Testing. It is designed to inspire and educate, but equally as important it is about meeting other testers and building upon your knowledge & community.
Gothenburg - Swedish / 2013, in general Europe biggest
Stockholm - Sweden AU
Tallinn - Estonia
[ C&I Community & Initiatives ]
One of the most (important?) ways of the knowledge sharing. Start crafting your software testing skills.
[ ST Community ]
Strong focus on learning, collaboration and resources.
Foreign, Ministry of Testing, STC meetings, Test Republic, Agile Testing, Zappers, and more
Polish Groups & Meetings, WarszawQA, SJSI, PTaQ [POZNAŃ], Test Well [KRAKÓW], ŁódQA [Łódź], Agile Warsaw [WARSZAWA], Bydgoszcz Tech Meetup Group, Bright Talks [KRAKÓW], WrotQA [WROCŁAW], KraQA [KRAKÓW], Quality Meetup [GLIWICE]
T&T Oriented, MS Testing Stuff, and more...
[ Social ]
FB
LI
GL
G+
[ FORMAL ]
[ Certifications & Courses ]
- Main -, ISTQB, Get Syllabus and Glossary - in English, Get Syllabus and Glossary - in Polnish, QAI - Quality Assurance Institute, CSTE, CSQA, iSQI GmbH, CAT - Certified Agile Tester
- Additional -, BBST - Black Box Software Testing, RST - Rapid Software Testing
- Supplemental -, REQB, IBAQB, IBUQ, CQI - Chartered Quality Institute
[ Standards ]
IEEE 829 Test Documentation
IEEE 1008 Unit Testing
BS 7925-1 Vocabulary of Terms in Software Testing
BS 7925-2 Software Component Testing Standard
IEEE 1044 Standard Classification For Software Anomalies
ISO 31000 Risk Management
IEEE 1028 Software Inspections
IEEE 610 Glossary of Software Engineering Terminology
ISO/IEC 29119 Software Testing
[ Publications ]
There are a lot of books about Software Testing and QA. Should I read all of them ? Amazon: look at the reviews and date of publication.
Quale, c0re Mag
ST&QA - STP - Software Test Professionals
Tea-Time with Testers
TE - Testing Experience
Better Software Magazine
AST - Automated Software Testing
Test Magazine
Testing Circus
Software Quality Professional
Professional Tester Magazine
Methods & Tools