METROLAND
by
Mirna Radin-Sabadoš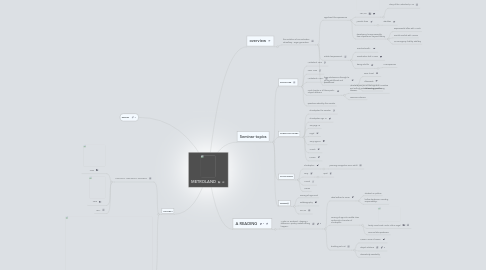 0.0
stars - reviews range from
0
to
5
METROLAND
'I grew up in a place that looks like a settled community but is in fact full of rootless people. You have this psychic rootlessness which is characteristic of who we are.'
CONTEXT
POLITICAL AND SOCIAL CONTEXT
welfare state, p.161968 student revolt in Pariscf.1848 revolution (Flaubert and Marx)
1963
1968
1977
SETTING
overview
Barnes's debut is a contemplative and reflective fictional memoir that affirms the value of simple pleasures and resists the Larkinesque temptation to believe that 'life' lies somewhere else: beyond suburbia, at political riots and protests, or in leading a Bohemian existence.
the evolution of one suburban schoolboy - anger generation
Barnes shapes a there-and-back-again traveller's tale which suggests Eliot's famous lines on the end of exploring in 'Little Gidding': 'to arrive where we started / And know the place for the first time.'
significant life-experiences, TRAVEL, Story of the Metroland p. 35, juvenile fears, identites, developing his own sexuality from experience/ beyond theory, experimental affair with Annick, marital comfort with Marion, ?? monogamy, fidelity, adultery
artistic temperament, scorched Earth -, constructive loaf in Paris, being into life, a compromise
from adolescence through to young adulthood and parenthood, Paris, travel, Afterwards, utilitarian approach?
Seminar topics
STRUCTURE
closely structured chapters (13/6/6) three-part/triades commuter novel cycle
Metroland 1963
Paris 1968
Metroland II 1977
Final chapter in all three parts - Object relations, What else are you at that age but a creature part willing, part consenting, part being chosen?, conscious choices
questions asked by the narrator
NARRATIVE VOICES
Christopher, the narrator
Christopher, age 16
Tony age 16
Nigel
Tony, age 30
Annick
Marion
CHARACTERS
Christopher, yearning recognition as an adult
Tony, epat
Annick
Marion
GENRE(S)
coming-of-age novel
autobiography
POMO
A READING
Irony as a strategic device in developing the narrative
cf. A Portrait... I will tell you what I will do and what I will not do. I will not serve that in which I no longer believe, whether it call itself my home, my fatherland, or my church: and I will try to express myself in some mode of life or art as freely as I can and as wholly as I can, using for my defence the only arms I allow myself to use — silence, exile and cunning. W.H. Auden, In Memory of W.B. Yeats
rebel without a cause, Flaubert on politics, hollow hedonism, avoiding responsibility?
coming of age into middle class conformity, Character of Christopher, family, Front Seat, uncle Arthur, Nigel, Paris on false pretenses
budding Fat Cat, Marion, voice of reason, Object relations, domesticity, sensibility