How to take great pictures of yourself! :D
by Rayen Lim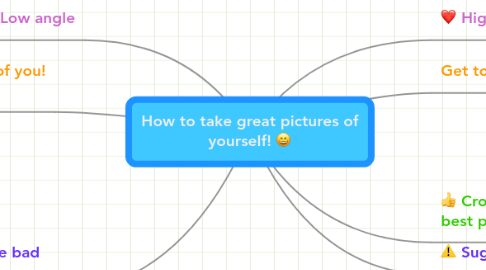 1. High angle
1.1. Cute
1.2. Big shades to look nicer too :)
2. Low angle
2.1. Street
3. Suggest nudity :D
3.1. Look better!
4. Show good bits, hide bad bits
4.1. Show the best side of yourself!
4.2. Hold a cat = look cute :D
5. Get together with friends :D
5.1. Look sociable. :)
5.2. Hide blemishes so that you can look better ;)
6. Light the best side of you! ;D
6.1. POP YOUR COLLAR. YOU'LL LOOK COOLER :D
7. Crop the picture. Show the best part of you :)!