Programming Paradigm
by
Joshua Karahalis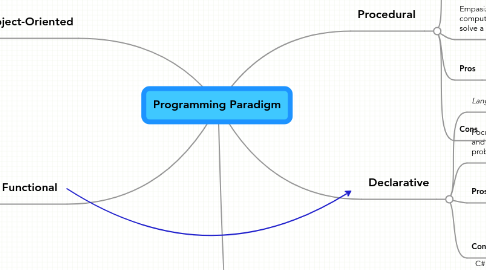 0.0
stars - reviews range from
0
to
5
Programming Paradigm
Procedural
Languages Supported
Empasizes linear steps that provide the computer with instructions on how to solve a problem or carry out a task.
Pros
Cons
Object-Oriented
Languages Supported
Formulates programs as a series of objects and methods that interact to perform a specific task.
Pros
Declarative
Languages Supported
Focuses on the use of facts and rules to describe a problem.
Pros
Cons
Functional
Languages Supported
Emphasizes the evaluation of expressions, called functions, rather than the execution of commands.
Event-Driven
Languages Supported
Focuses on selecting user interface elements and defining event-handling routines that are triggered by various mouse or keyboard activities.
Most event driven paradigms are focused on GUI interface applications. More advanced than the others because the program initially does not know what the user is going to do.
Pros
Cons