Fwicki RSS Technology
by
David Ridge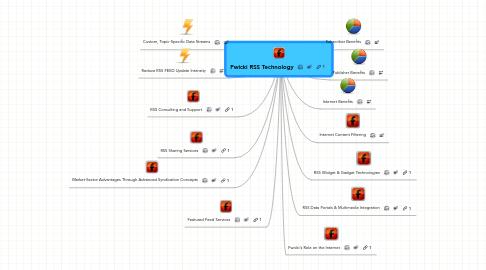 5.0
stars -
1
reviews range from
0
to
5
Fwicki RSS technology offers Internet users the ability to manage syndicated content and data flow like never before. Fwicki is considered to be at the forefront of innovation in the following areas: RSS Management RSS Mashup Technologies Custom Data Portal Technologies RSS Widgets and Gadgets Fusing RSS Concepts & SEO For Market Sector Advantages RSS Consulting Services Fwicki's unique RSS mashup application toolset offers advantages to syndication savvy website owners.
Subscriber Benefits
The benefits of using the Fwicki application are many for subscribers. The unique nature of the Fwicki application allows subscribers to create focused RSS feeds for their web site or personal consumption. Fwicki feeds are more dynamic in nature than conventional feeds. The subscriber gets the benefit of tapping into top syndication sources while avoiding the tedious process of browsing/sorting multiple feeds. Fwicki allows the subscriber to combine their top feeds into a Fwicki mashup feed. The combining of multiple feeds into one saves time and effort for the subscriber.
Publisher Benefits
Publishers have a unique tool set when using the Fwicki application. Fwicki enables publishers to create highly-optimized, targeted information streams. Fwicki also enables publishers to place their RSS feeds into an environment of savvy syndication professionals who are looking for top-level, media-rich content. Publishers have several options when using Fwicki. Among those options are the ability to: Combine existing site feeds in order to generate a master feed. Add top-level "third-party" feeds. Mashup a carefully planned recipe which includes existing site feeds as well as top-level "third party" feeds.   The users within the Fwicki community have the option to take a publisher's feeds and create focused feed mashups which in turn create new instances of syndication for the publishers website content. Not only is there value associated with generating a new instance of syndication, there is great value for the publisher when mashup technology brings their site content into carefully planned, optimized data streams.
Internet Benefits
The Fwicki mashup application brings value to the Internet at large. The Fwicki mashup application allows savvy developers and webmasters to create combinations of top-level RSS sources which by their very nature act as web content filters. The Fwicki application can be used to segregate, integrate, and combine the best RSS information available for any topic on the web.. as long as the mashups comply with Fwicki's terms of service.
Internet Content Filtering
Everyone agrees.. Internet content filtering presents challenges. Fwicki offers an RSS-XML application platform that gives publishers, webmasters, and even the casual RSS enthusiast an easy way to filter,  manage, and control the content they receive.
Reduce RSS FEED Update Intensity
The benefits of RSS are many.. it would take some time to cover them all. One of the most popular benefits associated with RSS mashup is the reduced level of feed update intensity. Because the carefully planned mashup contains dynamic data from multiple sources, the update intensity of any given feed within the mashup can be effectively reduced. This attribute has proven to be very popular among RSS publishers who use Fwicki technology.
Custom, Topic-Specific Data Streams
Fwicki's primary purpose is to enable the publisher and webmaster to create custom, hyperdynamic, topic-specific data streams. Savvy webmasters and SEO professionals use the Fwicki application to gain advantage over their Internet competition.
RSS widget and gadget technologies are exploding. Savvy developers are creating powerful widgets and gadgets that offer value to Internet users. Fwicki RSS widgets and gadgets include a Google Gadget, RSS FLASH cloud widgets, RSS photo cloud widgets, a Fwicki facebook application, a Fwicki Bebo application, a Fwicki Joomla! module, and the original RSS feed cloud. Fwicki RSS widgets and gadgets offer much more than meets the eye. To the casual observer, the widgets look cool and they contain multiple mashups which deliver targeted information and media content on a given subject. To the savvy publisher the widgets are a viral syndication mechanism that can be shared with other site owners and bloggers within their niche category. The widgets double as a viral syndication engine. Fwicki develops custom RSS FLASH cloud widgets for qualifying publishers. Contact us for additional information.
For many publishers and webmasters, understanding the concepts and advantages of RSS and syndication technology can be a challenge. Fwicki offers RSS consulting services designed to benefit all webmasters, from entry-level to advanced users. Regardless of where you stand with RSS.. we can help you take syndication to the next level.
The Fwicki application has a unique role on the Internet. Google continues to categorize and define the role of Fwicki and has assigned authoritative status to the application in the realm of "rss mashup technology" as well as "social bookmarking". Google the following terms to verify: define: rss mashup technology define: social bookmarking The Fwicki application is innovative and effective. Fwicki provides significant advantages to site owners and webmasters who understand the intricate relationships between RSS, SEO, and RSS mashup concepts.
Fwicki is unique in that the application generates a public RSS reader page that can be modified and transformed into a custom data portal. Fwicki data portals support media integration and playback tools. This includes an embedded High-Definition video player and podcast player tools. The modified Fwicki data portals are highly optimized. As a result, they perform very well in the search engines. Fwicki portal pages can be used to boost visibility online. Fwicki portal pages generate additional organic traffic for web sites and blogs. The pages can also be used to promote specific content, products, and services.
Fwicki offers RSS sharing services that allow publishers and site owners to share their feeds with Fwicki users. Make it easy for the Fwicki users in your audience to generate new mashups (new instances of syndication) which contain your website content. RSS publishers leverage the Fwicki application to get additional syndication for site content, products, and services.  
Fwicki offers featured feed services for the Internet community. Qualified publishers who are interested in presenting their feed to an educated RSS consumer have the option of featuring their feed at Fwicki. RSS feeds featured at Fwicki must comply with the Fwicki terms of service. Contact us if you are interested in featuring an RSS feed at Fwicki.
Fwicki provides several market-sector advantages for savvy site owners. Combining RSS, SEO, multimedia, custom data portal technologies, and syndication widgets give the publisher significant advantages over the competition. Fwicki employs compliant, vertical technologies that create such advantages. When a comprehensive syndication strategy is implemented and allowed to remain in place, a website will grow it's subscriber base and increase it's ROI. If you are interested in learning more.. contact Fwicki support.