SELF DIRECTED LEARNING
by bedegilmore .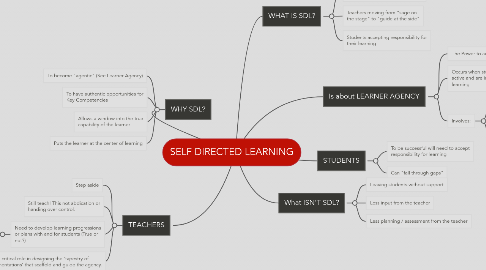 1. Is about LEARNER AGENCY
1.1. The Power to act
1.2. Occurs when students move from passive to active and are involved in the decisions about learning
1.3. Involves:
1.3.1. Initiative / self regulation
1.3.2. Interdependency
1.3.3. Awareness of responsibility for learning
2. WHY SDL?
2.1. To become "agentic" (See Learner Agency)
2.2. To have authentic opportunities for Key Competencies
2.3. Allows a window into the true capability of the learner
2.4. Puts the learner at the center of learning
3. WHAT IS SDL?
3.1. Students taking greater ownership over their learning
3.2. Teachers moving from "sage on the stage" to "guide at the side"
3.3. Students accepting responsibility for their learning
4. TEACHERS
4.1. Step aside
4.2. Still teach! This not abdication or handing over control.
4.3. Need to develop learning progressions or plans with and for students (True or not?)
4.3.1. Have a role in? Guiding the process / progressions?
4.4. Have a critical role in designing the 'tapestry of implementations' that scaffold and guide the agency.
5. STUDENTS
5.1. To be successful will need to accept responsibility for learning
5.2. Can "fall through gaps"
6. What ISN'T SDL?
6.1. Leaving students without support
6.2. Less input from the teacher
6.3. Less planning / assessment from the teacher