ISACA® CISA® study guide mind map
by
Mirosław Dąbrowski, COO, Agile&IT Coach, Trainer, Consultant, Product Owner, Entrepreneur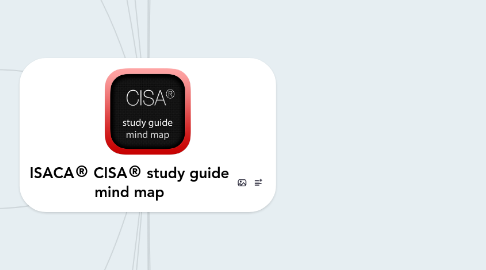 5.0
stars -
62
reviews range from
0
to
5
ISACA® CISA® study guide mind map
ISACA® is a registered trademark of Information Systems Audit and Control Association. CISA®, Certified Information Systems Auditor®, CISM®, CGEIT®, Certified in the Governance of Enterprise IT/CGEIT® (and design)®, COBIT® are registered trademarks of ISACA®. CRISC™, Certified in Risk and Information Systems Control™, Certified Information Security Manager™, Risk IT™, Val IT™ are trademarks of ISACA®. Trademarks are properties of the holders, who are not affiliated with mind map author.
The job profile of the CISA® (Certified Information Systems Auditor) was published in 1977. Ever since, innumerable individuals around the world have passed this demanding examination which has been consistently updated in line with changing requirements; the examination takes place simultaneously in 80 countries, currently in 12 languages. The successful graduates will, on the provision of meeting the requirement of professional practice / experience, obtain the coveted CISA® designation.
Covers
Designation
The CISA® job profile has so far been consistently revised in 4 to 6 year intervals (the last time in 2010).
Official Recommended exam study materials
Glossary
Development Guides
ISACA® CISA® Review Manual 2015
ISACA® CISA® Review Questions, Answers & Explanations Manual 2015 Supplement
ISACA® CISA® Practice Question Database
CISA® Official website
http://www.isaca.org/Certification/CISA-Certified-Information-Systems-Auditor/Pages/default.aspx
Basic audit related definitions (from ISACA® CISA® perspective)
Audit Risk
Auditing
Evidence
Information Systems Auditing
Risk
Domain 1: The Process of Auditing Information Systems
Audit Charter
Audit
Audit Planning
Performing the Audit
IS Audit Resource Management
Plan for an Audit
Audit Methodology
Phases of an Audit
Audit Workpapers
Audit Procedures
Types of Tests for IS Controls
Fraud Detection
Risk Management (based on ISACA Risk IT)
Risk-based Auditing
General Controls
Internal Controls
Audit Documentation
Automated Work Papers
Evaluation of Audit Strengths and Weaknesses
Communicating Audit Results
Management Implementation of Audit Recommendations
Control Self-Assessment (CSA)
Continuous Auditing vs Continuous Monitoring
ISACA Code of Professional Ethics
Domain 2: Governance and Management of IT
Corporate Governance
IT Governance (ITG)
IS Governance (ISG)
Information Technology Monitoring and Assurance Practices for Management
IS Strategy
Enterprise Architecture
Maturity and Process Improvement Models
IT Investment and Allocation Practices
Auditing IT Governance Structure and Implementation
Policies, Procedures, Standards
Risk Management
Resource Management
Human Resource Management
IS Roles and Responsibilities
Segregation of Duties within IS
Organizational Change Management
Quality Management
Performance Optimization
Reviewing Documentation
Reviewing Contractual Commitments
Business Continuity Planning (BCP)
Business Impact Analysis (BIA)
Business Continuity Plan
Domain 3: Information Systems Acquisition, Development, and Implementation
Business case
Portfolio/Program Management (PPM)
Benefits Realization Techniques
General IT Project Aspects
Project Context and Environment
Project Organizational Forms
Project Communication
Project Objectives
Roles and Responsibilities of Groups and Individuals
Project Management Practices
Project Planning
Project Controlling
Project Risk
Closing a Project
Systems Development Models (SDLC)
Types of Specialized Business Applications
Acquisition
Application Controls
Domain 4: Information Systems Operations, Maintenance and Support
Auditing System Operations and Maintenance
System and Communications Hardware
Auditing Networks
Business Continuity and Disaster Recovery Audits
Domain 5: Protection of Information Assets
Importance of IS Management
Key Elements of IS Management
CSFs to IS Management
Inventory and Classification of Information Assets
Privacy Management Issues and the Role of IS Auditors
Social Media Risks
Access Controls
Challenges with Identity Management
Identification and Authentication
Logical Access
Familiarization with the Organization's IT Environment
Remote Access
Audit logging and monitoring system access
Encryption
Physical and Environmental Controls
Overview of the CISA® certification
About the CISA® exam
Interactive Glossary
Recommended additional study
CISA Essential Exam Notes 2014
Effective Approach and Practical Tips for CISA Exam
This freeware, non-commercial mind map (aligned with the newest version of CISA® exam) was carefully hand crafted with passion and love for learning and constant improvement as well for promotion the CISA® qualification and as a learning tool for candidates wanting to gain CISA® qualification. (please share and give feedback - your feedback and comments are my main motivation for further elaboration. THX!)
ISO 19011:2011 (Guidelines for auditing management systems)