Dr. Seuss Unit for Kindergarten (March 2nd, 2010) Kimberly Long
by
Kimberly Long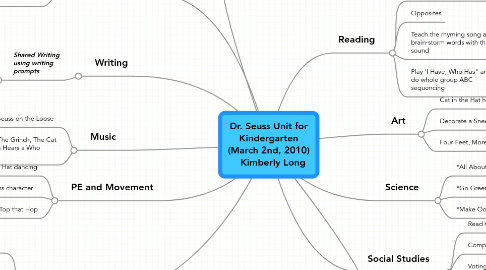 0.0
stars - reviews range from
0
to
5
Dr. Seuss Unit for Kindergarten (March 2nd, 2010) Kimberly Long
Reading
The Cat in the Hat Erase-a-Rhyme
Opposites
Teach the rhyming song and brain-storm words with the -at sound
Play 'I Have, Who Has" and do whole group ABC sequencing
Writing
Shared Writing using writing prompts
Social Studies
Read the Biography of Dr. Seuss
Complete the Dr. Seuss search
Voting on favorite book and/or character
Oh the Places You'll Go
Math
How many fish do you have? (addition with goldfish crackers)
Dr. Seuss addition (worksheet)
Greater and less than
Who eats Eggs? (graphing)
Plant the Truffula trees
Two Feet, Four Feet, More Feet (skip counting)
Art
Cat in the Hat hats
Decorate a Sneetch
Four Feet, More Feet
Music
Dr. Seuss on the Loose
Listen to the cd from The Grinch, The Cat in the Hat, and Horton Hears a Who movie
Science
*All About Eggs
*Go Green
*Make Oobleck
PE and Movement
Cat in the Hat dancing
Dress like a Seuss character
Top that Hop
Teacher Read Alouds (Just a few examples)
*Cat in the Hat
Scambled Eggs Super!
Bartholomew and the Oobleck
The Sneetches
Oh, the Thinks You Can Think
Student Reading
Copy the Words from a mini book on chart paper. Read aloud and introduce it to children. Recite during calendar time and whole group reading. Then, color book and bring home to read.
Mini-Lessons and Extensions
Cat in the Hat snack
Cook Green Eggs and Ham
Sprit Week: Top Hat Tuesday, Wacky Wednesday, Funny Food Friday, Fox in Socks Day, Great Day for Up PJ Day