uroinstitute.org
by Pauline Kalil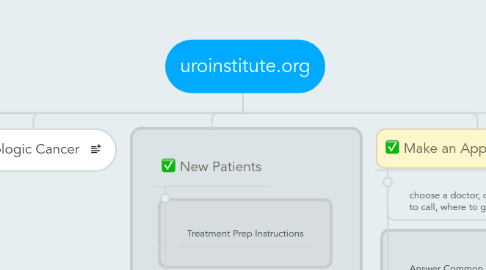 1. Utility Links
1.1. Uro Institute Difference
1.1.1. Partners
1.1.1.1. Albany Medical
1.1.1.2. Community Care
1.2. Contact Us
1.2.1. Contact Us Form with auto sending rules
1.3. Locations Near You
1.3.1. Add pages for each location - People are at ease when they see a local address or telephone number on a local business website.
1.4. Social Icons
1.5. Search
1.6. Footer
1.6.1. Site Map
1.6.2. Add main office address and phone number including a local area code to footer
1.6.3. logos for Community Care and Albany Medical and links back to their sites.
1.6.4. Patient Feedback
1.6.5. Jobs
1.6.6. Recent News Listings
1.6.6.1. Albany Medical College urologist Hugh Fisher, MD, talks prostate cancer on WAMC. Listen here: bit.ly/1ldIYfW pic.twitter.com/vfA9ECMmoK
1.6.7. Privacy Policy
1.6.7.1. Do you have one?
2. Meet Our Doctors
2.1. Doctor Profiles.
2.1.1. Doctor Donald Bentrovato, Urologist
2.1.2. Doctor Laura Chang Kit, Urogynecologist
2.1.3. Carl Diaz-Parker, Physician Assistant
2.1.4. Doctor Elise De, Urologist
2.1.5. Doctor Hugh A. G. Fisher, UroOncologist
2.1.6. Doctor Karla Giramonti, FNP
2.1.7. Doctor Jean Hollowell, Pediatric Urologist
2.1.8. Doctor Ronald Kaufman, UroOncologist
2.1.9. Doctor Barry Kogan, Pediatric Urologist
2.1.10. Doctor Andrew McCullough, Andrology
2.1.11. Doctor Badar Mian, UroOncologist
2.1.12. Doctor Rebecca O'Malley, UroOncologist
2.1.13. Doctor Donald Rivard, Urologist
2.1.14. Doctor Mark White, Endourologist
3. Conditions
3.1. Local Links
3.1.1. Related Treatments
3.1.2. Doctors
3.2. Condition Profiles
3.2.1. Cancer
3.2.1.1. Prostate Cancer
3.2.2. Men
3.2.2.1. Enlarged Prostate (BPH)
3.2.2.2. Vasectomy
3.2.2.3. Vasectomy Reversal
3.2.3. Pediatrics
3.2.3.1. Bedwetting
3.2.3.2. Vesicoureteral Reflux
3.2.4. Bladder Infections
3.2.4.1. Urinary Incontinence
3.2.4.2. Overactive Bladder
3.2.4.3. Fetal Urinary Tract
3.2.5. Women
3.2.5.1. Vaginal Prolapse
3.2.6. Kidney Stones
3.3. Recommend to Add
3.3.1. Peyronie's disease
3.3.2. UTI
4. Tests, Treatments & Trials
4.1. Local Links
4.1.1. Treatment Prep Instructions
4.2. Treatment Profiles
4.2.1. Deflux
4.2.2. Vasectomy
4.2.3. Vasectomy Reversal
4.2.4. DaVinci Robot
4.2.5. Extracorporeal Shockwave Lithotripsy (ESWL)
4.2.6. Percutaneous Nephrolithotomy
4.2.7. Ureteroscopy and Laser Lithotripsy
4.3. Clinical Trials
4.4. Tests
4.4.1. Pediatric Urodynamic Test
4.4.2. Cystoscopy
4.4.3. Transrectal Ultrasound (TRUS)
4.4.4. Pressure Flow Urodynamic Studies:
4.4.5. Urine Flow Study
4.4.6. Postvoid Residual Volume Test
4.4.7. Prostate-Specific Antigen (PSA) Blood Test
4.4.8. Urodynamic Testing
4.4.9. Abdominal X-ray
4.4.10. Ultrasound
4.4.11. Intravenous pyelography (excretory urogram)
4.4.12. Spiral CT scan
4.4.13. Biofeedback
5. Urologic Cancer
6. New Patients
6.1. Treatment Prep Instructions
6.2. Insurance Options
6.3. Get Directions
6.4. Make Your First Appointment
6.4.1. downloadable forms and instruction sheets for patients
6.5. Learn about Urologic Conditions
7. Ongoing Education
7.1. Annual Courses
7.1.1. Men's Health Update
7.1.2. Peds Urology Seminar
7.1.3. Andrology seminar
7.1.4. Urology update
7.1.5. Local Links
7.1.5.1. Register
7.1.5.2. Claim CME Credits
7.1.5.3. Exhibitor Information
7.2. Education Resources
7.3. Teaching Conferences
8. Make an Appointment
8.1. choose a doctor, choose a location, who to call, where to go, what to bring
8.2. Answer Common Questions
9. Technical SEO
9.1. Get verified by Google Plus
9.1.1. - add this line of code for the Uro Institute website - <a href="https://plus.google.com/113611610644511781436" rel="publisher">Google+</a>
9.2. Add Google Analtyics
9.3. Everyone in the UroInstitute group should have an @uroinstitute email address
9.4. Set up webmaster tools
9.4.1. Submit to all search engines and local directories
9.5. Create redirects