Blogging Workflow
by
JoAnn Chateau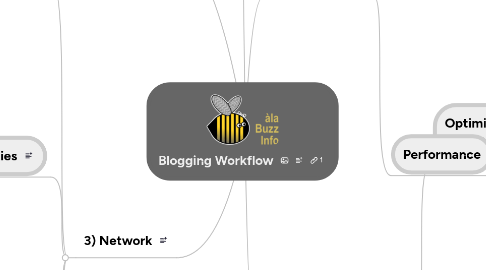 4.5
stars -
2
reviews range from
0
to
5
alaBuzz.Info is a site about better blogging, where the focus is on blissful creativity and smooth productivity.
Welcome!
There's nothing like a smooth workflow to make blogging life honey-sweet! Follow logical steps. Remember every important task. Save time. Keep it simple.
3) Network
Be helpful to others. Social networking is important to developing an online presence and is related to reputation management, branding, and site promotion. Avoid blatant self-promotion.
Bookmarking Sites
Post your sites to your favorite bookmarking sites. But be sure to bookmark plenty of other sites too, to maintain credibility.
Niche Communities
Participate in communities and forums related to your niche area. Add to the conversation with meaningful comments. It supports fellow-bloggers, generates goodwill, and helps develop your online presence.
Social Networks
Create a social presence springing from your career, business, or blogging interests. You can be more personal here, but keep it line with your professional goals.
Tweet about new posts. Automate the process with FeedBurner Socialize or a plugin.
2) Content Creation
Original content creation attracts site traffic, as well as search engines. It also builds your reputation as an expert in your niche.
Maximize content: Republish.
Revise articles to avoid duplicate content.
4) Market Research
1) Develop original content. 2) Keywords analysis. 3) "Spy" on your competition.
See people, traffic data, similar sites, social comments, description, social popularity, and much more, about your own and other websites.
Sister to KeywordSmash.com/. For Firefox or Internet Explorer. The only tool you'll need!
Enter up to 5 Web sites to compare traffic data.
Like SEOquake for Firefox or Chrome. Check any site's page rank, back links, and more, while you browse. (Check your browser extensions/add-ons to install.)
Sister to CashKeyword Toolbar, only a website. Again, the only market research tool you need. (Works best with Firefox or Internet Explorer.)
1) Site Design
Theme Selection
Plugins