Blogging by CybermediaMarketing.com
by
Teddy G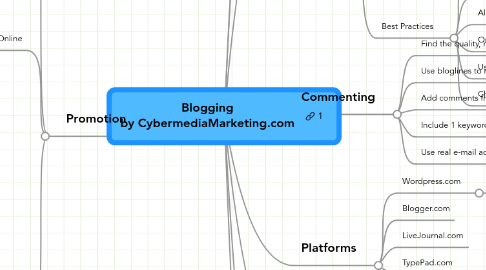 4.8
stars -
4
reviews range from
0
to
5
Blog vs Website
Content in Chronological Order
Creates a Journal
Easy to add new content
Anyone can be a publisher now
Frequently updated content
Keeps readers (and spiders) coming back
2 Way conversation (comments)
Helps build trust
Goals
Provide Value
Establish credibility
Become an Authority
Get your customers to trust and value your opinion
Drive Traffic to your "Money" Site
Content
Decide what you want your niche topic to be
Passion or Profit?
Do you know enough about the topic to write about it several times a week?
Topic Brainstorming, Hobbies, Passions, Things you do for work, Places you've been or things you've done (or want to visit or do), Things you know about or want to learn about, Entertainment (Music, Movies, Books, TV, Celebrity's), News, Politics, Current Events, Weird Stories, Technology: News/Trends, Tutorials, Reviews, Business: Marketing, Management, Strategy, Automation, Outsourcing, Finance/Investing, News/Trends, Magazine Racks, SubNiche Popular Topics, Automotive: 4 Wheel Drive Trucks, Cooking : Cuban Food, Electronics: Home Theater Equipment
Don't just write about your product or service. Write about topics that matter to your audience - make it valuable.
Snowboard Manufacturer, Resort Reviews, Finding Deals on Lift Tickets, How To's
Realtor, Things to do in the area, Companies that are hiring, Traffic warnings
Avoid controversial topics on a business blog... Politics, religion, abortion, gun laws, race
Mention Authority Blogs/People in your market. They have searches setup to notify them when someone writes about them or their company
Types of Posts
How To Article/Tutorial
Subject Overview (usually in a multi-part series)
Top X List
Resource List
Opinion, Theory, Observation or Argument, Original, Response to someone else's post
Link bait, Anything truly useful that lots of people would want to link to. Look at top Digg posts for examples, Free Software, Free Reports, Free Audio/Video, Free Graphics
Best Practices
Minimum of 2 Posts a week, Schedule posts to publish in the future
Min 250 word posts
Allow and Invite comments
Original content only
Use Pictures, Audio, Video, Transcribe Audio and Video also with time markers
Change Permalink Structure to /%postname%/
Commenting
Find the quality, reputable, authority blogs on your topic at Technorati.com and blogsearch.google.com
Use advanced search to narrow results
Use bloglines to monitor daily posts
Add comments frequently (at least every other day) to related blogs.
Thoughtful
Relevant
Smart
Witty
Educated
Interesting
Valuable
Just like interrupting a conversation at a party
Include 1 keyword rich link to your blog/website in signature
Use real e-mail address in case blog owner wants to contact you. Never know what could come of it
Platforms
Wordpress.com
Host it yourself...
Blogger.com
LiveJournal.com
TypePad.com
Windows Live Spaces - http://home.services.spaces.live.com/
Vox.com
Themes
http://themes.wordpress.net
http://www.templatesbrowser.com/wordpress-themes/
http://www.templatemonster.com/category/wordpress-themes/
http://www.wpthemesfree.com/
Plugins
Akismet
All In One SEO Pack - http://wp.uberdose.com/2007/03/24/all-in-one-seo-pack/
Adsense Deluxe - http://www.acmetech.com/blog/2005/07/26/adsense-deluxe-wordpress-plugin/
Wordpress Backup - http://www.ilfilosofo.com/blog/wp-db-backup
WP Cache - http://mnm.uib.es/gallir/wp-cache-2/
Sitemap Generator - http://www.arnebrachhold.de/2005/06/05/google-sitemaps-generator-v2-final?utm_source=wp-wm&utm_medium=install&utm_content=plugin-home
Related Posts - http://www.w-a-s-a-b-i.com/archives/2006/02/02/wordpress-related-entries-20/
Ultimate Tag Warrior - http://www.neato.co.nz/ultimate-tag-warrior/
Sociable - http://push.cx/sociable
MyBlogLog.com
CForms - http://www.deliciousdays.com/cforms-plugin
NextGEN Gallery - http://alexrabe.boelinger.com/wordpress-plugins/nextgen-gallery/
PodPress - http://www.mightyseek.com/podpress/
WP-Polls - http://lesterchan.net/portfolio/programming.php
Embedded Video - http://www.jovelstefan.de/embedded-video/#english
Monetization
Paypal - Donation buttons
Build an e-mail list
CPC Ads
Google Adsense
Yahoo Publisher Network
Chitika.com
AzoogleAds.com
Bidvertiser
Text Links
Kontera.com
Text-Link-Ads.com
Linkadage.com
AdBrite.com
Pay for Post
Payperpost.com
ReviewMe.com
BlogBurst.com
CPA/Affiliate
Pick Subscription Programs when possible
CJ.com
Linkshare.com
Clickbank.com
Performics.com
Hydranetwork.com
Amazon
eBay
PayDotCom
Sponsorship
Create an "Advertise Here" page
Charge monthly instead of by impressions or clicks.
Set them up on autopay
Charge a premium and limit availability
Promotion
Make sure you have enough good content before promoting - At least 10 articles
Online
Other Blogs, Build a network of peers - start with people in same league, not the A-list, Link to them, E-mail the author, Interview the Author
Forums
Social Networks, LinkedIn, FaceBook, MySpace, MyBlogLog, BlogCatalog
Social Bookmarking, Digg, Del.icio.us, StumbleUpon, Reddit
Syndication, PingOMatic.com, FeedBurner, PRWeb, Articles, Scribd, Squidoo, HubPages, ezineArticles, goArticles, iSnare, eHow, FindArticles, ArticleAlley
Paid Advertising, PPC, Banners, Text Link Ads
Content, eBooks, Audio/Podcast/TeleSeminars, Webinars/Videos/Screencasts, eZines/Newsletters, Wikis, Software/Tools
Offline
Business Cards
Flyers
Weekly Papers
Bulletin Boards
Newspaper, Radio, TV, Billboard
Word of Mouth
Public Speaking