Globalization
by
Antonio and Seth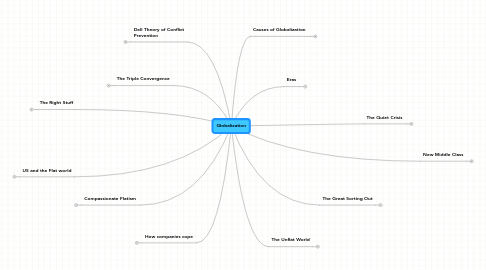 0.0
stars - reviews range from
0
to
5
Globalization
Eras
1.0
2.0
3.0
The Triple Convergence
India, China, and Soviets began to compete in the world.
Globilization 3.0 began in the 1990's starting the new era.
The Great Sorting Out
India v Indiana
Where do companies start and stop?
From command and control to collaborate and connect
Multiple Identity Disorder
Who owns what?
Death of a salesman
US and the Flat world
Free Trade
The Right Stuff
Right Brain
Tubas and Test Tubes
Right Country
Navigation
CQ+PG>IQ
Liberal Arts
Learn How to Learn
The Quiet Crisis
The numbers gap
Education Top
Education Bottom
Ambition Gap
Funding Gap
Infrastructure Gap
New Middle Class
Collaborators and Orchestrators
Synthesizers
Explainers
Leveragers
Adapters
Green People
Passionate Personalizers
Math Lovers
Localizers
Causes of Globalization
Internet
Uploading
Supply Chains
Fall of Berlin Wall
Outsourcing
Informing
Work Flow software
Steroids
Offshoring
Insourcing
Compassionate Flatism
Leadership
Muscles
Cushioning
Social Activitism
Parenting
The Unflat World
There are four reasons why countries dont flatten.
How companies cope
Rule #1. When the world is flat, whatever can be done will be done. The only question is whether it will be done by you or to you.
Rule #2. Because we are in a world where whatever can be done, will be done, the most important competition today is between you and your own imagination.
Rule #3. One way small companies flourish in the flat world is by learning to act really big.
Dell Theory of Conflict Prevention
The theory is that with so many countries being globalized, we won't have any wars. This is because of the fact that many countries rely on one another certain resources to make their goods. If the country that supplies them with certain resources were to get in a war with them, they would not be able to get their resources to continue producing the goods.