Xtreme Joomla
by
Becca Pierce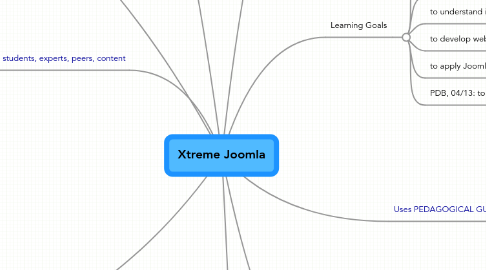 0.0
stars -
0
reviews range from
0
to
5
Xtreme Joomla
COLLABORATION between students, experts, peers, content
Individual blogs to share experiences
Discussion board to share ideas, issues, and questions about learning experiences
Share with peers and/or experts
Various components of Adobe Connect for both conferencing and real-time assistance
Partner or goup work option available
Each member of XTreme Joomla! prototype emulated the collaboration experience
Scrapbook for citing memorable experiences/learnings
Learning Goals
to know how to describe the website by reflecting on specific needs and goals
to develop an information architecture of the website that meets needs and goals
to understand in technical language what a website is, including its operating connections
to develop web pages that reflect the architectural design
to apply Joomla knowledge to achieve above goals
PDB, 04/13: to learn how to participate in the Joomla Community of Practice, starting on the periphery and then working in to be more and more a contributor
Researched, problem-solving CURRICULUM
Grounded in theories
Situatedlearning
Adult learning
Problem-based Learning
Experiential learning
focused on independent learners
fluid structure, activities selected based on interest/need
multiple learning formats, learn in cohort, step-by-step lessons, tutorial videos, screen-sharing guidance, provide trial sites for hands-on learning, articles
encourages collaborative learning
expert guidance dependent on learner need
content
immediately applicable, opportunity for reflection, practice and experimentation, encourages learning by doing
novice to expert, range of activites
embedded in website
4 components of experiential learning, concrete experience, reflective observation, abstract conceptualization, active experimentation
INTERNET for curriculum and learning environment
The Internet is the environment in which Joomla activities take place and is the environment in which the Joomla community of practice works, so the Internet is an integral part of the learning environment, not an enhancement.
The Internet provides tools that enhance learning Joomla through individual effort and collaborative effort. Screen-capture videos, with audio, provide a richer experience to the learner. Screen-sharing, with audio, facilitates all kinds of collaboration between learners, facilitators and experts.
The audience for learning Joomla may be relatively small at any given time or location. The Internet makes it possible to form cohorts of learners with similar needs and interests, even though they are widely dispersed, geographically speaking.
Enhancement through MEDIA and text from field
Texts from mini workshop provided authentic enhancements to our AL curriculum and motivation
Weblinks of methods, theories, artifacts, principles members' blogs, XtremeJoomla discussion and forum and daily emailing, reading lists and postings
Videos from mini workshop provided authentic collaborative learning opportunities to enhance our AL curriculum.
Sound - using audacity and activate to capture the real time discussion and collaboration
QTVR from our real time interaction and collaboration
Photos provided authentic motivation to our curriculum.
Explored affordances such as UMconnect and Skype to experience real-time, synched, collaborative learning situations.
SYNCHED learning opportunities
Just-in-time learning
learn while applying skills
curriculum embedded in website
curriculum controlled by learner
peers
synchronous and asynchronous shared learning
online discussions
blogs
chats
expert
tutorials
online guidance
monitors discussions
video conferencing
ADVENTURE-BASED learning
participants as primary adventures in cyberspace
Mini-learning online community:role playing and interaction: faciltator (Paul) and learners (becca and Crystal) engage in inquiry based teaching and learning
Risk of working in new environment
New collaborators from different academic disciplines
New CMS system which is differnet from the one used currently
Adeptation and adoption of using new language and ideas in the project
Motivation and desire for adventuring into an unfimiliar field of Joomla learning experience
We found the exploration of the Joomla! space was a virtual adventure. Challenges and opportunities presented by new software Huge potential of the website construction software Challenges of having to hunt for help Open Source community -- willing to share but information not always organized
HOOK
PDB, 04/13: learners motivated by need to create their own websites
PDB, 04/13: learning is situated, takes place in the environment that is the subject
PDB, 04/13: learning environment offers a sense of community, supported by collaboration tools
PDB, 05/02: synchronous activities, such as screen sharing and web-based meetings also create sense of community
Uses PEDAGOGICAL GUIDELINES both curriculum and online learning environment
Aligned with our Joomla learning curriculum in the online learning environment. The archiving of each Joomla AL development is important for further improvement and implementation.
Each lesson plan has detailed objectives, learning activities, teacher's guides, learning expectation and assessments providing a wide range of collaborative opportunities, such as the open-ended + ee -(online experiential learning) opportunities.
Aligned with 7 AL principles and andragogical learning theory