HOW BUSINESSES COULD USE WEB 2.0 TECHNOLOGIES.
by calvin tlooke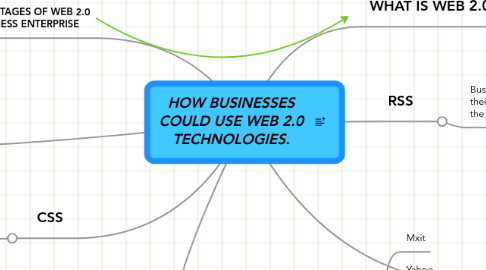 1. DISADVANTAGES OF WEB 2.0 IN THE BUSINESS ENTERPRISE
1.1. Check out http://www.mindmeister.com/services/tools/geistesblitz_widgets
1.2. People use social networking sites to rob other people by retrieving their personal details such as ID numbers.
1.3. Piracy
1.4. Plaigarism
2. ADVATAGES OF USING WEB 2.0 IN A BUSINESS ENTERPRISE
2.1. Its cost effective.
2.2. It gives businesses a competitive edge over others within the same industry
2.3. It adds a dynanic dimension and have a beneficial impact on you personaly and on your business.
3. SOCIAL NETWORKING
3.1. Mxit
3.2. Yahoo
3.3. My space
3.4. Facebook
3.5. 2go
4. WIKIS
4.1. Businesses use wikis to create and edit web links
5. WHAT IS WEB 2.0?
5.1. Web 2.0 is a tem used to describe new web services and applications with an increasing emphasis on human collaboration.
6. RSS
6.1. Businesses use RSS to update their recent business actities on the net.
7. CSS
7.1. Businesses use CSS to design web links.