What are the advantages of bamboo as an environmentally sustainable building material?
by Evan McMahon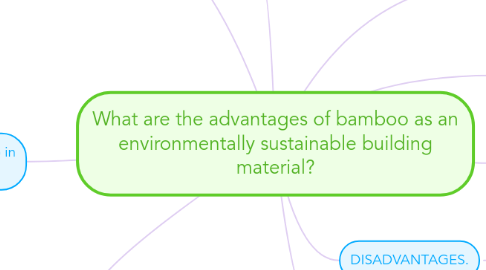 1. Advantages of Bamboo in Disaster Prone Areas.
1.1. Cheap.
1.1.1. Easily Constructed.
1.1.1.1. Effective in response to sudden crisis.
1.2. It is easily transported.
1.2.1. Can be moved to the most sheltered area if terrain changes from before.
1.3. Longevity.
1.3.1. If it's temporary it is very very cheap.
1.3.2. If it's permanent than it costs more but it is still way less than a normal brick building.
1.4. Often found in disaster areas.
1.4.1. A common resource so it can be constructed quickly.
2. Sustainability of Bamboo.
2.1. The sustainability largely depends upon the species rather than bamboo's hardiness on the whole.
3. Easily Cut.
3.1. No techniques or tools are needed to cut down bamboo.
4. Few Environmental Impacts.
4.1. When cut down to be used it does not impact the environment largely or noticeably.
5. Cultural Impact.
5.1. Not only does it connect to cultures and traditions but it doesn't interfere with any cultures so it can be used anywhere and not interfere with their daily cultural life.
6. Economical Advantage.
6.1. It is very cheap so there is a rise in the demand for bamboo so it could help the global economy
7. Social Impact.
7.1. It has helped the people who produce and sell bamboo to sustain lives even in the poorest parts of the world
8. DISADVANTAGES.
8.1. Vulnerability.
8.1.1. Very vulnerable to fire and insects
8.2. Treatment
8.2.1. It needs to be taken care of otherwise it only lasts 1-5 years.
9. Substitute for lumber
9.1. If lumber can not be used you could use bamboo instead