Road Security
by Lina Maritza Sampedro Toro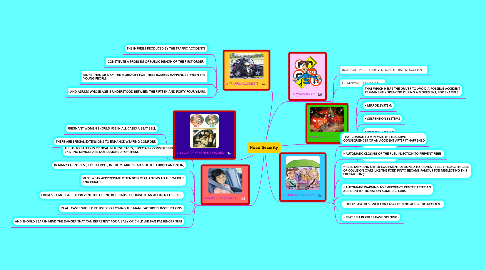 1. 1- CONSISTS OF
1.1. ROAD SAFETY IS THE PREVENTION OF TRAFFIC ACCIDENTS
1.2. OR MINIMIZE THEIR EFFECTS.
2. 2-ACTIVE SECURITY
2.1. THAT WHICH HELPS THE DRIVER TO AVOID A POSSIBLE ACCIDENT PERMANENTLY SPEAKING DURING A MOVEMENT, FOR EXAMPLE:
2.2. • MIRROR SYSTEM:
2.3. • SUSPENSION SYSTEMS
2.4. • BRAKING SYSTEM:
2.5. • STEERING SYSTEM:
2.6. • LIGHTING SYSTEM:
3. 3- TERTIARY SECURITY
3.1. THAT CHARGE TO MINIMIZE THE NEGATIVE CONSEQUENCES OF AN ACCIDENT AFTER IT HAPPENED
3.2. • AUTOMATIC CLOSING OF THE FUEL INJECTION TO PREVENT FIRES.
3.3. • FUEL TANK AND OTHER EQUIPMENT DESIGNED TO PREVENT FUEL SPILLAGE IN CASE OF COLLISION (CARS LIKE THE FORD PINTO BECAME FAMOUS FOR NEGLECTING THIS PRECAUTION.)
3.4. • AUTOMATIC WARNING TO EMERGENCY CENTER AFTER AN ACCIDENT (OPTIONAL ON SOME U.S. CARS).
3.5. • DOORS ARE DESIGNED FOR EASY OPENING AFTER THE ACCIDENT.
3.6. • SEAT BELT BUCKLES EASY OPENING.
4. 4-BABY / CHILD SAFETY
4.1. THE AUTO SAFETY IS CRITICAL IN THESE CASES, ESPECIALLY CONSIDERING THAT EXISTING DEVICES ARE NOT DESIGNED FOR THEM.
4.2. IN MANY COUNTRIES (FOR EXAMPLE, IN THE MEMBER STATES OF THE EUROPEAN UNION)
4.3. MUST WEAR APPROPRIATE RETENTION MECHANISMS TO THE WEIGHT AND HEIGHT,
4.4. FROM SPECIAL SEATS TO PREVENT THE LIFTING BELT CAUSE CHOKING IF AN ACCIDENT OCCURS.
4.5. IN ALL CASES SHOULD BE USED FOLLOWING THE MANUFACTURERS INSTRUCTIONS,
4.6. AND SHOULD BEAR IN MIND THE DANGER THAT CAN REPRESENT FOR A BABY OR CHILD AIR BAG PASSENGER SEAT
5. 5- SECURITY PREGNANT WOMEN
5.1. PREGNANT WOMEN SHOULD USE IN ALL CASES A SEAT BELT,
5.2. THERE ARE SPECIAL EXTENSIONS TO ENHANCE WEARING COMFORT.
6. 6-TRAFFIC ACCIDENTS
6.1. THE INJURIES PRODUCED BY THE TRAFFIC ACCIDENTS
6.2. CONSTITUTE A PROBLEM OF PUBLIC HEALTH OF THE FIRST ORDER:
6.3. MORE THAN 50 % OF THE MORTALITY FOR THESE INJURIES HAPPENS BETWEEN THE YOUNG PEOPLE
6.4. AND ADULTS WHOSE AGE IS UNDERSTOOD BETWEEN THE FIFTEEN AND FORTY FOUR YEARS.