What do psychiatrists do?
by
Captain Walker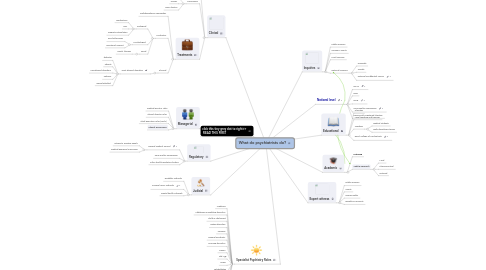 0.0
stars - reviews range from
0
to
5
This map is meant to cover very broadly areas of work and activity where psychiatrists may be involved. This is not to say that all psychiatrists do all of this. This map does not include fine detail on specialist roles. A separate stem is included for specialist roles but those roles are not expanded on this map.
Inquiries
Public Inquiries
Coroner's courts
Local inquiries
National Inquiries
Managerial
Medical Director roles
Clinical director roles
Chief Executive roles (rarely)
Clinical Governance
Academic
Lecturing
Audit & Research
Clinical
Assessments
Supervision
Treatments
Expert witness
Public Inquiries
Courts
Human Rights
Equality & Diversity
Judicial
Disability Tribunals
Mental health Tribunals
Regulatory
Care Quality Commission
Other health regulatory bodies
Educational
Charities
Local teaching and training.
Teaching
DOH
Liasion with registered charities
click this tiny grey dot to right>> READ THIS FIRST
To zoom in or out click mouse on magnifying glass icons at bottom right side of this map. There is also a re-centre button next to those two icons. To move the map about just left click and drag anywhere on the map.    
Specialist Psychiatry Roles
Academic
Addictions & gambling disorders
Child & Adolescent
Eating disorders
Forensic
General Psychiatry
Learning disorders
Liaison
Old Age
Prison
Rehabilitation
Social Psychiatry
Women's disorders
Other