Appraisals
by
Captain Walker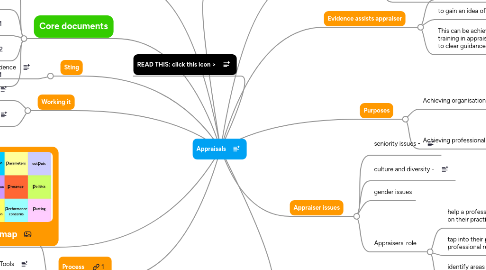 0.0
stars - reviews range from
0
to
5
Appraisals
This is a mindmap about Appraisals. Note - a mindmap is a plot of the big issues. It is not a dissertation on all the issues.
Questions for doctors
What do I do?
How well do I do it?
What should I do to continuously improve?
Evidence assists appraiser
to understand what the doctor does;
to gain an idea of how well the doctor is performing;
This can be achieved by ensuring that the appraiser has training in appraising skills and that the appraisee has access to clear guidance.
Purposes
Achieving organisational aims
Achieving professional aims
Appraiser issues
seniority issues -
the senior consultant might be appraised by someone many years their junior or vice versa, or a very senior consultant might appraise a junior colleague in such a way that the power relationship inherent in their respective roles establishes itself early on in the appraisal process;
culture and diversity -
the appraiser and/or appraisee should be cognisant of the diversity and cultural issues that may affect performance, career choices or relationships with colleagues. Clearly the appraiser should deal with such matters with tact and discretion;
gender issues
Appraisers' role
Emotional intelligence
Personal competence
Social competence
Time
Tools
ACP 360 to assess communication skills availability to teams and patients emotional intelligence decision-making relationships with patients relationships with relatives/carers relationships with colleagues.
Preparation
Am I a good doctor? Do I perform well? Am I up to date? Do I work well in a team? Do I listen to and respect patients and reflect on their experience? How well do I deploy resources available and what resources are needed? How well do I meet service objectives? What are my development needs?
Working it
Shared understanding
Both the appraiser and appraisee should have a shared understanding of the task at hand.
Clear guidance
This can be achieved by ensuring that the appraiser has training in appraising skills and that the appraisee has access to clear guidance.
Sting
Evidence
All doctors will be required to possess evidence of satisfactory practice and development, either through formal appraisal or preparation for a full revalidation (or perhaps both) and could be somewhat exposed if required to present historical proof of ongoing reflection, only to find that 'the cupboard is bare'. A poorly prepared and conducted appraisal (or a missing appraisal), whilst posing an assurance risk to healthcare organisations, places individual doctors at potential risk with the regulatory bodies.
CMO's recommendations
a process of ongoing skills assessment
360 degree appraisal should be developed and/or formalised.
map
READ THIS: click this icon >
This mindmap contains much more information than seen at first glance. Tiny icons when clicked bring up more information. Please have a go. Keep in mind that a mindmap is meant to be a tight summary - aimed at avoiding information overload. DO NOT ASSUME THAT ALL INFORMATION HERE IS COMPLETE. Only a few 'big bones' have been included. Click and drag anywhere in the map to move it around. Click little magnifying glass icons in bottom right corner to zoom in or out.
Core documents
NHS Framework
For Consultants
BMA
NHS Professionals
Guide For appriasees