Training & support
by
Marcel de Leeuwe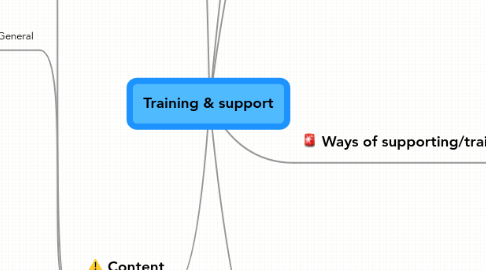 0.0
stars -
0
reviews range from
0
to
5
Training & support
Facilitators
F2F
3 x 1 day F2F course
Objectives
Target group, event organizers and course facilitators like requested in paragraph 5.5 in the RfP
Online support/training
Some examples of the administrator activities are:, - Adding and maintaining users in Moodle, - Adding and maintaining course material in Moodle, - Assigning and maintenance of roles and responsibilities of the users, - Closely follow the recent activities of the Moodle community
Target group, Administrators
Ways of supporting/training people in IT
Quick Reference Card (QRC)
PDF
Mouse pad
Little booklet (monitor)
Frequently Asked Questions (FAQ)
E-mail support
Chat support
x time
All times
Application sharing support
Explanation about the general concept
Text
Audio & screenshots
Inline video
Cartoon/visual story
Show me - animations
Let me try (guided) - animations (simulation)
Let me try (open) - animations (simulation)
Sandbox
Without guidance
With didacical guidance, Assignments, Digital coaching
Contest/game
User generated content
Technical possibilities
Video
Flash
Audio
Tools
Articulate
Flash
FAQ
Extra Moodle course for facilitators
Content
Learning tools (use)
Forum
E-mail
Chat
Blog
Calendar
Personal report, Grades, Activity report
Quiz
Poll (choice)
Glossary
Wiki?
Resources, Web page, SCO
Assignment
Workshop
General
Log in
Hide/unhide topics
Profile page
Use help
Design course
Add/remove blocks
Move blocks
Create learning activities, Forum, E-mail, Chat, Blog, Calendar, Quiz, Poll (choice), Glossary, Wiki?, Resources, Web page, SCO, Label, Text page, Show dirictories, Assigments, Workshop
Manage course
Add users
Create groups
Use reporting, Grades, Activity report
Manage blocks, Add, Remove, Move
Edit course settings, Format, Number of weeks/topics, Enrolments, Groups
Questions for Tatiana
Is the 3-level approach still correct? (2 x for facilitators, 1 x end users)
Can we list the different target groups?
What is exactly the targetgroup for the three 1-day workshops?
Event organizers
Course facilitators
In the RFP, an online training for Administrators is mentioned, is this still right?
Can we go though the list of content?
Which Articulate product are you using
Untitled
Do you use a FAQ-application within Shell?
Support community a good idea? (can be a Stoas Moodle environment)
Participants
Online support/training
Online
Asynchronous
Objectives, Can navigate within Moodle
Target group, All users of Moodle, Different prior knowledge