Portable Devices
by
Suma Lattin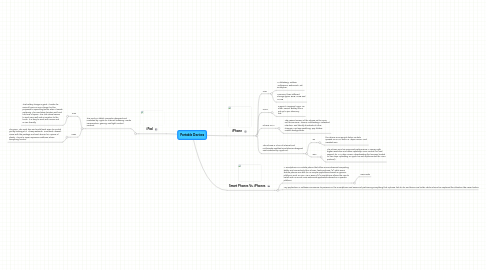 0.0
stars - reviews range from
0
to
5
Portable Devices
iPhone
Pros
Multitasking, Folders, Wallpapers, Enhanced Mail, Enterprise
Comes in three different storage types. 8GB, 16GB and 32 GB
Cons
Support, Unsigned Apps, No Flash. Period. Battery life is not up to par, dies very fast.
iPhone OS 4
The newest version of the iPhone set to come out this summer. There's multitasking a refreshed interface, and literally hundreds of other changes. Fast app switching, app folders, custom backgrounds.
The iPhone is a line of Internet and multimedia-enabled smartphones designed and marketed by Apple Inc.
3G, the iPhone 3G supports faster 3G data speeds via UMTS with 3.6 Mbps HSDPA, and assisted GPS.
3GS, The iPhone 3GS has improved performance, a camera with higher resolution and video capability, voice control,[23] and support for 7.2 Mbps HSDPA downloading (but remains limited to 384 Kbps uploading as Apple has not implemented the HSPA protocol)
iPad
The iPad is a tablet computer designed and marketed by Apple for Internet browsing, media consumption, gaming, and light content creation.
Pros, The battery charge is great. It works for several hours on one charge, but be prepared to spend big bucks when it needs replacing. The iPod does function well and has tons of space. The click wheel seems to work very well and is sensitive to the touch. It is easy to work with iTunes and is user friendly.
Cons, The price. The iPod face and metal back seem to scratch just by looking at it. Cheap earbuds. iPod dock, doesn't come with the package and cost $69.00 for a piece of plastic. It's just a super expensive walkman where everything is extra.
Smart Phones Vs. iPhones
A smartphone is a mobile phone that offers more advanced computing ability and connectivity than a basic 'feature phone'.[2] While some feature phones are able to run simple applications based on generic platforms such as Java ME or BREW,[3] a smartphone allows the user to install and run much more advanced applications based on a specific platform.
New node
Any application or software announces its presence in the Smartphone and assures of performing everything that a phone fails to do, and hence are hotter, while iPhone has captured the attention like never before