Advantages of CALL
by Ozer Samersim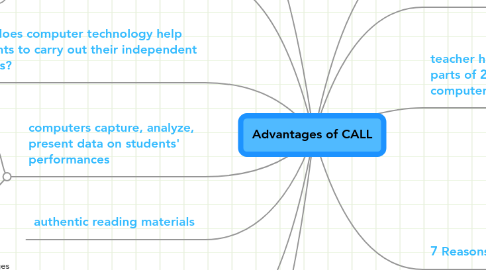 1. more independence
1.1. spatial
1.2. time-wise
2. lower costs
3. students can study more independently
4. teacher has more time to concentrate on parts of 2nd language teaching that the computer cannot handle
4.1. pronunciation
4.2. work on spoken dialogue
4.3. training for
4.3.1. essay writing
4.3.2. presentation
5. 7 Reasons [Lee (2000)]
5.1. practice through experiental learning
5.2. greater learning motivation
5.3. enhance student achievement
5.4. increase authentic material for study
5.5. encourage greater interaction between
5.5.1. teachers & students
5.5.2. students & peers
5.6. emphasize individual needs
5.7. enlarge global understanding
6. What abilities will promote 2nd language learners' motivation?
6.1. fun games
6.2. communicative activities
6.3. reduce learning stress, anxiety
6.4. provide repeated lessons as often as necessary
7. How does computer technology help students to carry out their independent studies?
7.1. by providing interdisciplinary, multicultural learning opportunities
8. computers capture, analyze, present data on students' performances
8.1. help in observing, checking, assessing students' learning process
8.2. help in offering feedback tailored to students' learning needs
9. authentic reading materials
10. interactive visual media
10.1. images
10.2. videos
10.3. visual expression of abstract concepts, cognitions makes understanding them easier
10.3.1. as opposed to verbally expressing abstract ideas
10.3.1.1. What are effects of various communicative, interactive activities?
10.3.1.1.1. strengthen linguistic skills
10.3.1.1.2. they affect one's learning attitude
10.3.1.1.3. building of self-instruction strategies, self-confidence
11. global community in the WWW