Reading Comprehension Template
by
Raphaela Brandner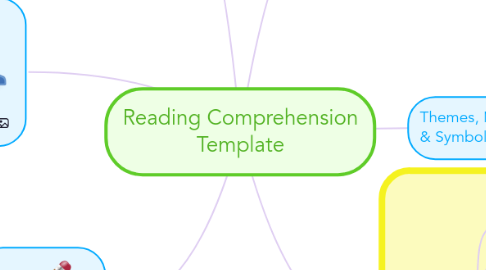 5.0
stars -
5
reviews range from
0
to
5
Reading Comprehension Template
Themes
The theme of any literary work is the base topic or focus that acts as a foundation for the entire literary piece. The theme links all aspects of the literary work with one another and is basically the main subject. The theme can be an enduring pattern or motif throughout the literary work, occurring in a complex, long winding manner or it can be short and succinct and provide a certain insight into the story.
Symbols
A symbol is literary device that contains several layers of meaning, often concealed at first sight, and is representative of several other aspects, concepts or traits than those that are visible in the literal translation alone. Symbol is using an object or action that means something more than its literal meaning.
Motives
A motif can be seen as an image, sound, action or other figures that have a symbolic significance and contributes toward the development of theme.
General Info
Type
Novel / short story / non-fiction etc.
Date of publishing
Original Language
Setting
Add a short summary of the story here
Author
Name
Date of birth and death
Nationality
About
Protagonist
Sidekick
Antagonist
Vocabulary
Chapter 1
Chapter 2
Chapter 3
Chapter 4
Chapter 5
Initial situation
Conflict
Complication
Climax
Suspense
Denouement
Conclusion