Infoxicación
by
Esthela San Andrés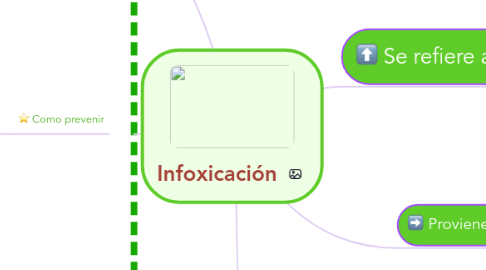 0.0
stars -
0
reviews range from
0
to
5
Infoxicación
Como prevenir
Tener formación en el manejo de Tic´s
Desarrollar habilidades en el área de Gestión de la Información
Racionalizar la información
Aprender a Gestionar la información para convertirla en conocimiento
Manejar la bandeja de entrada de e-mail con opciones que permitan filtrados claves.
Limitar y seleccionar las fuentes que se consultan
Utilizar aplicaciones que permitan la clasificación de información a través de etiquetas.
Utilizar buscadores especializados para realizar una búsqueda profunda.
Consecuencias
Perdida de tiempo
Genera estrés
Produce ansiedad
Proviene de:
Información+Intoxicación = Infoxicación
Termino introducido por:
Alfons Cornella,
Se refiere a:
This is a note! You can read notes by hovering over them with your mouse To create or edit a note, select the topic and use the notes widget in the right sidebar to write your text Click on Advanced to open our little text editor. Here you can format your text, create bullet-point lists and more
Sobresaturación de la información
Estar siempre "on"
Dificultad en encontrar información