Strategic Planning Ocean State PMI
by
April Cox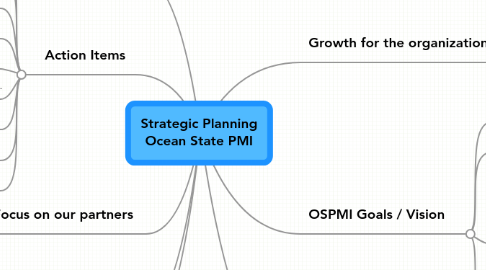 0.0
stars -
0
reviews range from
0
to
5
Strategic Planning Ocean State PMI
Growth for the organization is the #1 concern
Add members - increase the numbers
Improve % of PMs in the area to become members of the chapter.
Greater # of participation in meetings
Greater # of people participating in the chapter leadership.
Collaboration with other chapters
OSPMI Goals / Vision
Add value to our chapter
Support PM Professionals in their Certification Efforts
Facilitate Career Development
Provide Outreach to Corporate, Education, Community and Gov't Entities
Immediate Needs
More resources / volunteers
Surveys
Membership Communication - packages, e-mail, phone call?
Problems
Feedback for meetings isn't the greatest.
Registration can be a problem - need to work on it.
Questions
Do we want to increase the frequency of the PMP Training?
Focus on our partners
Bryant
Boston College
They have different offerings
May want to add discounts
Vendor product showcase.
Add PM links / make them a part of the library
Corporate Sponsors
Level of vendor participation will increase the membership attendance.
Action Items
Gil: Identify the frequency of education classes for 2006
Follow up on the New England Summit. What's going on this year?
Follow up regarding Student Outreach
Career Development Days - add this to the collaboration initiative?
April: Championship list of companies in the area
April: Get names of Education Committee and post the information on the web.
Board members: think about what other committees we need.
We need to get to the place where we can define metrics and baseline.
We need a mission / vision statement
Restructuring
We need to review the by-laws
Do we need to add Director positions
Be careful not to get too big and get dysfunctional