Tristram Oaten
by
Tristram Oaten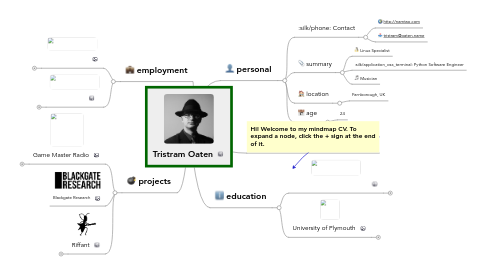 0.0
stars - reviews range from
0
to
5
personal
Contact
http://namtao.com
tristram@oaten.name
summary
Linux Specialist
Python Software Engineer
Musician
location
Farnborough, UK
age
24
projects
Game Master Radio
url, http://gamemasterradio.com
description, GMR is a radio service designed especially for Game-Masters of tabletop games
tags, python, apache, web2py, mysql, google app engine
Blackgate Research
url, http://riffant.com
description, Riffant is awebapp that allows your site visitors to compose emails to you in the webmail of their choice. The site was created in under 10 hours and runs on the Google App Engine
tags, python, apache, web2py, mysql, google app engine
employment
RadFactory Ltd
position, Software Engineering Consultant
start, April 2010
end, July 2010
description, Database & back-end Python design & development.
Goviral Ltd
position, Systems Administrator
start, July 2009
end, March 2010
description, Sysadmin for the multi-national CentOS infrastructure.
education
University of Southampton
degree, MSc. Software Engineering
start, 2008
end, 2009
specialities, agile development, scrum, python, formal methods
University of Plymouth
degree, BSc. Computer Systems & Networks
start, 2004
end, 2008
specialities, networking tcp/ip java cisco
Hi! Welcome to my mindmap CV. To expand a node, click the + sign at the end of it.