Spice Up Your Math Class Maria H. Andersen @busynessgirl TeachingCollegeMath.com
by
Maria Andersen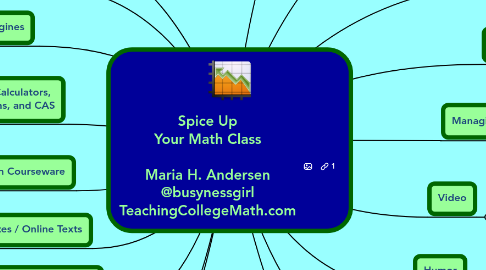 0.0
stars - reviews range from
0
to
5
Data, Charts, and Graphs
Notes / Online Texts
Open Courseware
Note that all videos are have completely captioned scripts and some courses are available in Spanish as well.
Online Calculators, Equations, and CAS
Equations
CAS
Calculators
Search Engines
How do I find stuff for myself?
Note that this one requires a cooliris download plug-in to Firefox.
Searches the "dark" Internet (no, not the XXX websites), this ALSO searches the websites that are only accessible by subscription, like the WSJ or Forbes) May be good for finding more data-driven material
Experimental human-driven "meta" searches - a person selects their own collection of websites and then the search is restricted to those. Click on the EXPLORE tab, search for "math teaching" and try the roll "My Math Teaching Sites" rolled by Maria Andersen.
Professional Organizations
National Center for Academic Transformation An organization that provides help with course redesign.
Magazines and Journals
A great newsletter delivered to your email inbox once a week.
Why do it?
Who will teach them if we don't?
Our students enter a world where they must manage their digital life and their real life. If we don"t teach them how to do this, who will. We cannot bury our heads in the sand and say "don"t use the Internet." We have to teach students worthwhile things to do with the technology we now have.
The majority of our students are ...
If we can incorporate images, demonstrations, or diagrams… we should. If those images, demonstrations, or diagram can be interactive… even better.
How much Time
I've been teaching this way for (fill in the blank) years, and I already feel pressed for time. And now I should add technology from the Internet? Isn't this going to take a lot of time? (scroll) Yes, don't do all your classes at once.
Re-examine your course structure
Look at each element of your traditional lesson structure / class time… What do we do? Why do we do it? i.e. How is it beneficial to student learning? What are the drawbacks? With all the resources we have at our disposal, is there a better way?
Boomers, Gen X-ers, and Millenials - Understanding the New Student
Before you Begin
Fair Use and Copyright
  Fair Use Guidelines for Educational Multimedia General principles Cite your source for any snagged images Refer users to the original hyperlink Don't sell anything containing someone else's media product without their permission
Favorites in Web Browser
Pros: Easy to use, already in your browser Cons: Only on one computer (not portable), you may add a link to favorites at home, but then it's not at school.
Pros: Portable, each link can have multiple labels, what you bookmark at home is also at work & vice versa. Cons: You must get a Google account. For convenience, you should download the Google Toolbar to machines you use all the time.
A social bookmarking site where you maintain and share your bookmarks. Pros: Social nature. Cons: Also requires account.
Interactive Materials
Remember that all you"re going to see at the WD website is a PREVIEW of the interactive demo. To obtain the demo, you will need to download the Mathematica Player (only need to do this once) and then download the demos. I just spent an hour one day downloading 250 demos to my hard drive. The demos are small, the player is large.
Finding Little Stuff and what to do with it
See if you can follow these URLS back to the original site and find ALL the material posted by this person. Chances are that if you like ONE of their demos, you"ll like them ALL!
Math and Search
Statistics
Calculus
Algebra and Precalculus
Math Elem Ed
History
Above Calculus
Digital Libraries
Applied Math and Science Education Repository. AMSER is intended for faculty, staff, librarians, and students.
You must download the free Mathematica Player to be able to interact with the Wolfram Demonstrations. The player is pretty hefty in size - so it should be downloaded where there is sufficiently fast Internet. Over 4,000 demonstrations, around 3,000 for math. (1/7/09)
Science Literacy Maps (a subgroup of NSDL) is a tool for teachers to find NSDL resources that relate science and math concpets. The maps do a nice job of illustrating the connections between concepts.
National Library of Virtual Manipulatives Really intended for the K-12 Math audience ... but if you teach statistics or Math for Elementary Teachers, this is a good resource.
National Science Digital Library Can search for topic under the tab "Higher Ed & Research"
Multimedia Education Resource for Learning and Online Teaching You do NOT need an account to browse and use the resources (only to rate or save them to folders) Click on "Mathematics and Statistics" to browse the 1584 results. 1/7/09
Math Digital Library
Video
TED Talks
Replace your TV intake for a week and you'll have a new understanding of where technology is going and why it's so important that we go with it.
YouTube
  Believe it or not, Science Friday has a video archive.
Humor
Math Blogs
Remember that you can use a blog reader (via RSS) to follow along on many blogs at a time.
A blog is like a newspaper column, published by an organization or individual(s). You visit the blog on a periodic basis to read or subscribe.
Now the blogs come to you collected in a "newspaper-like" format instead of you having to actively visit them on your own.
Haven't found what you're looking for?
Look for the "Blog Roll" on each of these blogs. Most bloggers post a list of the blogs they read. Follow these blog rolls to your perfect "end of the rainbow" blog.
Pros: Easier than building a website! It's your list, your personal journal of your professional development - organize it how you'd like. You can always find the information you"re looking for if you"ve made a blog entry. Cons: Now you'll be one of "those people" with a blog.
Recently added
Scholarship of Teaching and Learning Mathematics
Concept and Clicker Questions
Professional Development
Essays about Mathematics, Teaching Mathematics, and the Future of Mathematics