Where do I start to look for medical information?
by
Sarah Whittaker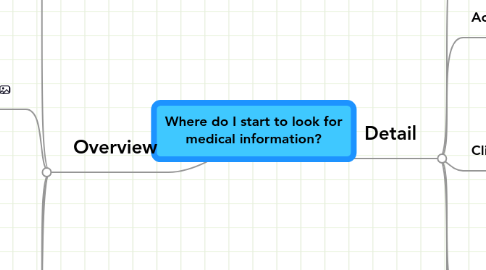 5.0
stars -
2
reviews range from
0
to
5
Where do I start to look for medical information?
Detail
The National Library of Guidelines is a collection of guidelines for the NHS. It is based on the guidelines produced by NICE and other national agencies. The main focus of the Library is on guidelines produced in the UK, but where no UK guideline is available, guidelines from other countries are included in the collection.
Statistics
Overview
Reference
Core Texts
Internet Search Evaluation tips
Evaluating websites checklist   Source: Authors/sponsoring body/organisation Acknowledged reputation – what else have they done? Known for taking a particular perspective? How well established? Vested interests? Peer reviewed? Who runs or pays for it?   Not the be all and end all – for instance just because something is reputable it still may not be right, but a good place to start.      Appropriate for your purpose: What do you need this for? Applies to your setting – eg location, population, Level: who is the information intended for? Specialist or lay audience.   Bias / Objectivity: Context of the information. Opinions.  Do the authors clearly state their standpoint? Language: emotional or vague? Look for omissions. Clearly organised? How much knowledge do they show they have of the relevant schools of thought, techniques, or theories.  If they are presenting a new theory do they discuss its limitations or problems? Use of evidence base. Can you verify the facts elsewhere?   Currency:  Is the information up to date or obsolete?  When was it last updated?  
You can compare how the mainstream news organisations have reported the same story using Google news: http://news.google.com/news/section?pz=1&ned=uk&topic=m&ict=ln You can access full text of national and international newspapers here: http://www.le.ac.uk/library/digital/NexisUK.html 
Patient Information