SchnitzelConf Panel 2
by
Dan Taylor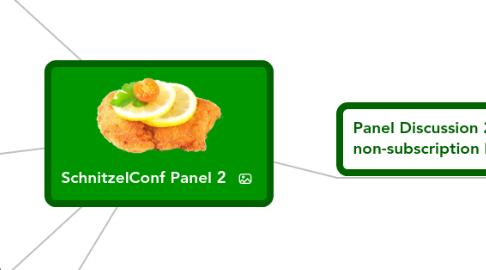 0.0
stars -
0
reviews range from
0
to
5
SchnitzelConf Panel 2
Panel Discussion 2 non-subscription based sales
Geoff Grosenbach is the tremendous brain — and sultry voice — behind everyone's favorite screencast / ebook / software company, Peepcode. Geoff is SchnitzelConf-tastic because: He took a not-uncommon idea, and ran further and harder than anyone else.
No intention to capitalize on my passion, just happened that way, selling products is much better than trying to monetize your podcast
Brand new content attracts attention, coming up with unique and interesting stuff, graphically interesting
Growing a bigger business doesn't have any value just because it's big, it's looking for the level of control and comfort
Half of my rev. is from subs., sales increased when option was given to buy in bulk, I want to produce content that people want to read, drives further subscriptions
Selling a tutorial, if it doesn't work - end user thinks it's their problem
Selling a piece of software, people want it to work right out of the box
Peldi Guilizzoni is the cheerful head honcho behind Balsamiq Mockups, the hottest (and most profitable) thing to hit wireframing since gluesticks. Peldi is Schnitzelconf-o-matic because: He not only took his product from spare-time to $2 million, he's also a true mensch!
I had my first sale a week before I launched, got there through SEO, and blog
I have the opposite problem, the 4 pillars of organic growth, I'm overwhelmed by support, subscription, optional components
We are now 2 years ahead of my dream, 5-6 people doing great work, loving what they do., Have you thought about raising prices and having less customers?, yes and no, if you raise your price too much, you make a hole under you for others to come in.
You never know when people are going to stop buying your product, desktop version:, alot of people want it, instead of SaaS, it might become Software AND Services, Every business will eventually need best in class mobile and web
Have you done the numbers - revenue dedicated to support?, No., but a lot of my day goes to support, out of the 6 full time, half of that time is sales support, compete with customers on usability and support
Adii Rockstar is the irrepressible designer-founder of WooThemes, and the philanthropist behind The Rockstar Foundation for underprivileged girls. Adii is Schnitzelconf-licious because: He grew one premium theme into a 3-person, million dollar business — and he's giving back.
Within the first hour of putting up my first theme, used my personal blog as promotion, Now, it's a much bigger decision, good marketing - contacting other people, tweeted, reblogged
Even though you can justify growth, do you really want to do it?, no amount of financial success can give you "life moments" back
The challenge is always there, devising a plan or product that can double revenue overnight
You can't forcast, monthly revenue is 70% from one off sales, with a subscription you can take a progressive approach, one offs need massive diversification, the customer indicates their commitment level, it's important not to dictate to your users how they should spend their hard earned money, leave the choice to users, multiple business models facilitate this
It's not just fixing bugs, support is a drain on resources, client work for free
Questions
How long did it take you to get your first customer?
What are you doing to sustain growth/momentum?
Are you still lured by the "Ooo...if we do this one thing, we'll have a lot more money" thing?
What would you say are the upsides and downsides of selling a one time downloadable product?
Where do you want to grow?
Where?
Where will Schnitzelconf be held? In a nasty 1980s hotel ballroom? NO! In a sea of fusty faux red velour that's been crushed by 5 decades of butts in suits? No! Behind the lion, up the stairs… Yes, we're holding our conference in Vienna's incredible Museum of Natural History! It's the center of everything, and so easy to get to, with scenery that can't be beat. And, by the way, we'll have the museum to ourselves. We'll have snacks and lunch in this very (gorgeous) lobby, and the gorgeous staircases and scenery will be ours to look upon while we munch, chat, query, and connect. It's gonna rule!
When?
SchnitzelConf is a 1-day, full-contact conference in Vienna, Austria on September 7. The focus: creating products, launching businesses, and charging real money.
What?
You'll meet and learn from the founders of successful bootstrapped businesses—including Software as a Service, downloadable software, and digital goods. Hard-won knowledge will be shared. Fun will be had. Wine will be drunk. Inspiration will be sparked.
Legend
Nodes are drag and drop, place them anywhere you like
Use the + and - icons to expand/collapse nodes
Hover over the circle with lines to read attached notes
Well done!