WE SHOULD NOT BE RELUCTANT TO ASSERT THE SUPERIORITY OF WESTERN VALUES
by
Allan Paltzer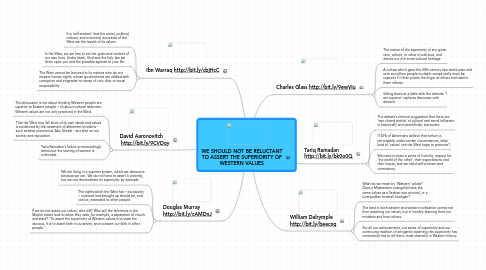 5.0
stars -
1
reviews range from
0
to
5
WE SHOULD NOT BE RELUCTANT TO ASSERT THE SUPERIORITY OF WESTERN VALUES
Ibn Warraq http://bit.ly/cbjHcC
It is 'self-evident' that the social, political, cultural, and economic successes of the West are the results of its values.
In the West, we are free to set the goals and content of our own lives. Under Islam, God and the holy law set limits upon you and the possible agenda of your life.
The West cannot be lectured to by nations who do not respect human rights, whose governments are riddled with corruption and engender no sense of civic duty or social responsibility.
William Dalrymple http://bit.ly/beecnq
What do we mean by 'Western' values? Does a Midwestern evangelist have the same values as a Serbian war criminal, or a Liverpudlian football hooligan?
The best in both eastern and western civilisation comes not from asserting our values, but in humbly learning from our mistakes and from others.
For all our achievements, our sense of superiority and our continuing tradition of arrogantly asserting this superiority has consistently led to all that is most shameful in Western history.
David Aaronovitch http://bit.ly/9CVDoy
This discussion is not about thinking Western people are superior to Eastern people – it's about cultural relativism. Western values are not only practiced in the West.
That the West may fall short of its own ideals and values is evidenced by the treatment of abhorrent incidents - such as what occurred at Abu Ghraib - as a blot on our society and reputation.
Tariq Ramadan's failure to resoundingly denounce the stoning of women is untenable.
Tariq Ramadan http://bit.ly/bk0o0Q
The debate's intrinsic suggestion that there are 'two closed worlds' of cultural and moral influence is historically and scientifically inaccurate.
If 53% of Americans believe that torture is permissible under certain circumstances, what kind of 'values' can the West hope to promote?
We need to learn a sense of humility, respect for 'the world of the other', their expectations and their hopes, and we need self-criticism and consistency.
Charles Glass http://bit.ly/9ewVIu
The notion of the superiority of any given race, culture, or value is ludicrous, and denies our rich cross-cultural heritage.
A culture which gave the 20th century two world wars and sent six million people to death camps really must be superior if it then points the finger at others and deems them inferior.
Sitting down at a table with the attitude 'I am superior' replaces discourse with discord.
Douglas Murray http://bit.ly/cAMDnJ
We are living in a superior system, which we denounce because we can. We do not have to assert it violently, but we can demonstrate its superiority by example.
The rights which the West has – exclusively – nurtured and brought up should be, and can be, extended to other people.
If we do not assert our values, who will? Who will the reformers in the Muslim states look to when they seek, for example, a separation of church and state? "To assert the superiority of Western values is to state the obvious. It is to assert faith in ourselves, and to assert our faith in other people."