Learning theories
by
Ingrid Kopke Donado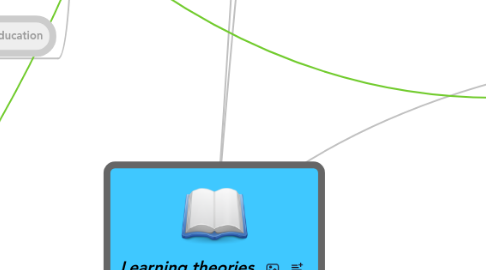 0.0
stars -
0
reviews range from
0
to
5
Learning theories
Work in your team to develop a mind map to show branching and connections of major learning theories and their key parameters. The Mindmeister will allow you to extend your collaboration beyond the classroom time •Display this mind map in your blog  
Cognitivism
Add some quotes and notes.
Piaget and Individual Cognition
La Gestalt
Wittrock's generative learning model
Brain-based learning
Control Theory
Gardner's Multiple Intelligences
ICT Connections
Right brain vs. Left brain
Imaginative education
Behaviourism
note
Sequencing (of learning activities)
Pavlov (conditioned learning)
Observational
Its positive and negative reinforcement techniques can be very effective. Source: www.funderstanding.com
Date:
ICT Connections
Constructivism
Instruction–Under the theory of constructivism, educators focus on making connections between facts and fostering new understanding in students. Assessment becomes part of the learning process so that students play a larger role in judging their own progress. Source: www.funderstanding.com
Vygotsky and Social Cognition
ICT Connections
Actor-Network-Theory
Constructivism has become educations version of the grand unified theory - Micheal Matthews http://www.csi.unian.it/edua/inglese/matthews.html
Model-Dependent Realism
Neuroscience
When educators take neuroscience into account, they organize a curriculum around real experiences and integrated, "whole" ideas. Source: www.funderstanding.com
Complex thinking abilities may be developed throughout life
Learning Styles
Traditional schooling tends to favor abstract perceiving and reflective processing. www.funderstanding .com/ content/about-learning
strategies, or regular mental behaviours, habitually applied by an individual to problem-solving. Source: Prichard 2009 Ways of Learning
Who we are.. in pictures.
Insert a link to the one best reference book you found.
Learning Theories
Motivational Theory
ARCS model
ICT implications
Connectivism
This seems to be a learning theory meant to be based on the "new" world of technology. It has to do with the learner beginning at some stage with isolated sets of knowledge and through the digital world, forming connections between them and in so doing expanding on and creating new knowledge in the process. I've just begun reading about this a little bit in the paper: Teacher's pedagogical reasoning and action in the digital age, by Louise Starkey.