Transatlantic Youth Agenda EU-LAC cooperation-AEGEE
by
Alejandro Injoque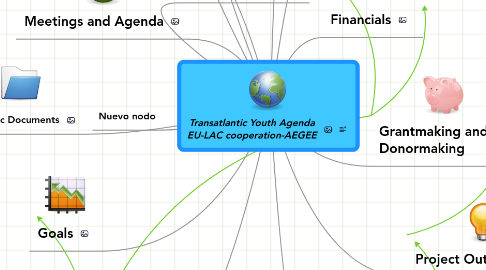 0.0
stars -
0
reviews range from
0
to
5
Transatlantic Youth Agenda EU-LAC cooperation-AEGEE
The Transatlantic Youth Leadership Exchange will bring together active young people from Europe and Latin America, to discover each other's reality, learn from each other's work, lay the foundations to a permanent transatlantic network, and elaborate a political statement together.  
Initiatives Coordinators
Contact Information
Grantmaking and Donormaking
Important Deadlines
Urgent Actions
Financials
Meetings and Agenda
Exchange
Exchange Structure
Description   During two events of fourteen days each, one in Lima, Peru and one in Brussels, Belgium, 80 participants from both continents and many more young people involved, meet with politicians, visit institutions, carry out projects with local partner NGOs, and discuss with local youth activists, understanding the local political system and culture, and critically reflecting upon the current political cooperation between Europe and Latin America.   Duration and Venues   For the preparation stage, the organising team meets in Lima, Peru, in December 2010; the first exchange event is scheduled to take again place in Lima in March 2011. the second exchange event is in Brussels, Belgium, in June 2011; directly after the second exchange in June 2011, the evaluation meeting will be held in Brussels.
General Aims and Objectives
Working Programme and Activities
Outcome and Prospect
Background
Strategic Documents
Note with Strategic Documents for us
Important Documents for us   I. the Madrid Action Plan 2010-2012 - the six key areas they outline: http://www.consilium.europa.eu/uedocs/cms_Data/docs/pressdata/en/er/114540.pdf - the structure is good - "Work programme and then in it:  *Dialogue, *Cooperation Activities and Initiatives, *Expected Results. (should i mention my outline after two-three sentences on the EU-LAC recent relations, starts with "We, the representatives of European and South American student and youth Associations,..." :) - it is attached starting on a blank paper. II. the Final Declaration of the Summit: http://www.consilium.europa.eu/uedocs/cms_Data/docs/pressdata/en/er/114535.pdf III. Outline for a Joint Carribean-EU Partnership Strategy - i liked the structure of the document - 1.Context; 2. The Common Vision/Purpose; 3.Shared Priorities; 4.The Way Forward. IV. the Communication from the Commission from 2009 "EU-LA -Global Players in Partnership": http://eur-lex.europa.eu/LexUriServ/LexUriServ.do?uri=CELEX:52009DC0495:EN:NOT All this can be found on: http://ec.europa.eu/external_relations/lac/index_en.htm and on left side : Previous Summits archives.
Word File with Additional Activities Proposal
Goals
Nuevo nodo
Nuevo nodo
New nffffffode
New node
New node
New node