Scavenger Hunt of Kim Burrell's "A Different Place" http://www.allmusic.com/album/from-a-different-place-mw0002862117
by Chris Smith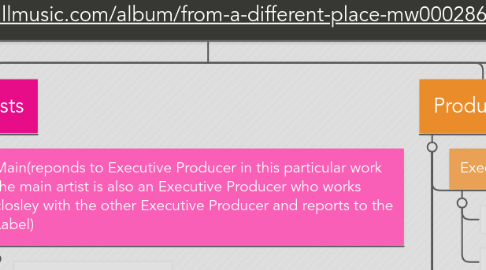 1. Q&A
1.1. Have you purchased or accessed this piece of work before? If so, how?
1.1.1. Yes, Kim Burrell is one of if not my favorite artist. It is easily my favorite album of the 2015. I purchase all her work via CD at Walmart and through my Apple Music Subscription. I purchased the physical CD in hopes of getting it signed, and download the album so I can have infinite access to it. I even gined a ReTweet of my Itunes review/preview from Kim Burrell herself.
1.2. What do you think are the major resources that were used to create this work?
1.2.1. In addition to some of the Music Industry's most talented producers, musicians and session singers. The quality of the this work is superb. The highest quality of vocal recording technologies and equip must have been used to create this masterpiece. There was also real pianos, organs, and horns used in the recording of this album.
1.3. Who are the main consumer markets?
1.3.1. Kim Burrell is a christian artist who aims at inspiring a broad audience. This work is clearly for her fan base, christian and mainstream alike who appreciate the rarity that is Kim Burrell. However, it targets the true musicians and singers in the entire Universes. This allows her to craft her own lane in Inspirational Gospel.
1.4. As an audio professional, what option would you choose to distribute your own work?
1.4.1. I think the digital outlets are an obvious direction to release my music. However, Exclusive content such as bonus tracks, lyrics, video media and behind the scenes album information will be release via CD, DVD, Blurays at music retailers. I will also allow discounted exclusive content through subscription to my website.
2. Production
2.1. Executive Producers(reports to Label)
2.1.1. Jalene M. Mack
2.1.2. Kim Burrell
2.2. Producers(reports to Executive Producers)
2.2.1. Asaph Ward
2.2.2. Kenneth Shelton
2.2.3. Employee
2.2.4. Jonathan Nelson
2.2.5. Lanshawn Smith
2.3. Arrangers(responds to Composers, Engineers and Producers)
2.3.1. Jamar Johnson(String Arrangements)
2.3.2. Donald Hayes(Horn Arrangements)
2.3.3. Nicole Neely(String Arrangements)
2.3.4. Lioniciao"Leo" Saenz Iii(Horn Arrangements)
2.3.5. Kim Burrell(Vocals)
2.4. Assistant Producer(reports and responds to Producers)
2.4.1. Andrea Mitchell
2.4.2. Employee
2.5. Engineer(reports to Producers)
2.5.1. Asaph Ward
2.5.2. Patrick McGuire
2.6. Mixing(reports to Engineer and Producers)
2.6.1. Asaph Ward
2.6.2. Gerald Hairston
3. Sales and Marketing
3.1. Shanachie Entertainment Corp
3.1.1. Independent Labe with Major Label Distribution Allows Artist to remain in control of their product but offers support of distribution and marketing
3.1.2. Founders: Richard Nevins and Dan Collins
3.2. Design and Packaging(reports to Executive Producers)
3.2.1. Lorien Babajian
3.3. Photograpahy(reports to Executive Producers)
3.3.1. Bruce McKinzy
4. Artists
4.1. Main(reponds to Executive Producer in this particular work the main artist is also an Executive Producer who works closley with the other Executive Producer and reports to the Label)
4.1.1. Kim Burrell(All Tracks excluding "Never Let GO[Easy Listening Mix]")
4.2. Featured Artists(responds to Producers and main Artist)
4.2.1. Brother Hahz("I'm Free Indeed")
4.2.2. Asaph Ward("It Is Done")
4.3. Backround Vocalists(report Producers and Arrangers)
4.3.1. Kim Burrell
4.3.2. Asaph Ward
4.3.3. Tonya Baker
4.3.4. Chadney Christle
4.3.5. Darius Dixson
4.3.6. Sherita Freeman
4.3.7. Twyla Hawkins
4.3.8. Kayla Freeman
4.3.9. Mariann Shaw
4.3.10. Eve McLure
4.3.11. Andrea Mitchell
4.3.12. Chenise Newsom
4.3.13. Rachel Stokes
4.3.14. LaTonya Smith
4.3.15. Miranda Smith
4.3.16. Candy West
4.3.17. Darian Yancey
5. Composers(all workd created soley or in collaborative efforts)
5.1. Indivdual Composers
5.1.1. Kim Burrell("Father I Stretch")
5.1.2. Asaph Ward("It Is Done" and "Higher")
5.1.3. Jonathan Nelson("Have Faith In Me")
5.2. Co-Composers
5.2.1. Myron Butler/Robert Searight("Thank You Jesus")
5.2.2. Tonya Baker/Asaph Ward("I Worship")
5.2.3. Mariann Shaw/Asaph Ward("Praise Groove")
5.2.4. Kim Burrell/Asaph Ward('Falling In Love With You", "Never Let Go", and "Never Let Go[Easy Listening Mix]")
5.3. Multi-Composers
5.3.1. Chris Andrews/Eric Andrews/Robert Searight("I'm Free Indeed")
6. Musicians
6.1. Programmers(reports to Engineer)
6.1.1. Asaph Ward(Drum Programming)
6.1.2. Devon Johnson(Drum Programming)
6.1.3. Kenneth Shelton(Drum Programming)
6.1.4. Kevin Powell(Drum Programming)
6.2. Individual Musicians(responds and reports to Engineer and Producer
6.2.1. Asaph Ward(Keyboards, Organ, Synthesizer Bass)
6.2.2. Michael Bereal(Organ)
6.2.3. Anthony Brow Jr.[Guitar(Bass)]
6.2.4. Edward Brown(Piano)
6.2.5. Chris "Daddy" Davis(Drums)
6.2.6. Shawn Davis(Bass)
6.2.7. Darrell Freeman[Bass, Guitar(Bass)]
6.2.8. Lemar Guillary(Trombone)
6.2.9. Donald Hayes(Saxophone, Soloists "Never Let Go")
6.2.10. Cameron Johnson(Trumpet)
6.2.11. Jabari Johnson(Guitar)
6.2.12. Kenneth Shelton(Keyboards)
6.2.13. Valentino Maltos(Saxophone)
6.2.14. Joshua MayField(Drums)
6.2.15. Timothy Mole(Guitar)
6.2.16. Prashant Murthy(Guitar)
6.2.17. Jonathan Nelson(Keyboards)
6.2.18. Kevin Powell(Keyboards, Organ)
6.2.19. Michael Robinson(Organ)
6.2.20. Lioniciao"Leo" Saenz Iii(Trumpet)
6.2.21. Kevin Stancil(Bass)
6.2.22. Thaddaeus"Terry" Tribbett(Bass)
6.2.23. Andrew Ward(Drums)
6.3. Sound Effects(Engineer and Producers)
6.3.1. Asaph Ward