The Vampire's Tear
by yuri bacciarini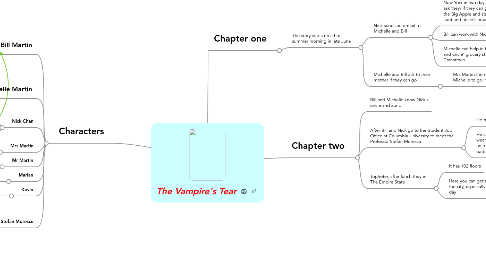 1. Characters
1.1. Bill Martin
1.1.1. He is 18
1.1.2. He is tall
1.1.3. He has brown hair and blue eyes
1.1.4. He plays basketball
1.2. Michelle Martin
1.2.1. She is 17
1.2.2. She has red hair and blue eyes
1.3. Nick Chan
1.3.1. He is 18
1.3.2. He is a good friend of Bill and Michelle
1.4. Mrs Martin
1.4.1. She is the mother of Bill and Michelle
1.5. Mr Martin
1.5.1. He is the dad of Bill and Michelle
1.6. Marian
1.6.1. The aunt of Nick
1.7. Kevin
1.7.1. The uncle of Nick
1.8. Professor Stefan Morescu
1.8.1. A man with long grey hair and small glasses
1.8.2. He is kind of weird
1.8.3. He loves the dark
2. Chapter one
2.1. The story starts on a hot summer morning in late June
2.1.1. Nick sends an e-mail to Michelle and Bill
2.1.1.1. He says that he is leaving for New York in two days and ask theyr if they can go to the Big Apple and stay at his aunt and uncle's house.
2.1.1.2. Bill can work with Nick in a museum
2.1.1.3. Michelle can help in his aunt and uncle' grocery store in Chinatown
2.1.2. Michelle and Bill ask to their mother if they can go
2.1.2.1. Mrs Martin the next day allaw Bill and Michelle to go in New York for a month
3. Chapter two
3.1. Bill and Michelle know Nick's uncle and aunt.
3.2. After Bill and Nick go to the Student Job Office at Columbia University to meet the Professor Stefan Morescu
3.2.1. He rarely smiled or laughed
3.2.2. He said that they have to wear the blue museum uniforms and name badges.
3.2.2.1. They have to collect tickets,watch the visitors at the show and make sure that no one touches anything
3.3. Togheter, after lunch they in The Empire State
3.3.1. It has 102 floors
3.3.2. Here you can get a spectacular view of the city, especially when there is a clear day