ARISTOTLE
by
Sierra Shidner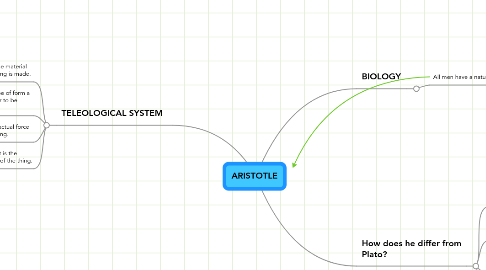 0.0
stars - reviews range from
0
to
5
ARISTOTLE
BIOLOGY
All men have a natural desire to learn.
TELEOLOGICAL SYSTEM
Material Cause: the material from which the thing is made.
Formal Cause: the shape of form a thing must take in order to be recognized.
Efficient cause: The actual force used to make the thing.
Final Cause: What is the ultimate purpose of the thing.
How does he differ from Plato?
A: is a scientific practical thinker.
A:believed the answers we desire can be found in this world, and therefore does not believe in the other World of Forms.
A: believed that everything we can understand are the things we can touch.
A: created and applied a scientific model to philosophical investigation.