Sustaining and embedding innovations - a Good Practice Guide
by
Peter Chatterton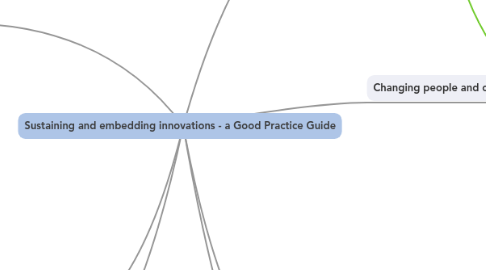 0.0
stars - reviews range from
0
to
5
Sustaining and embedding innovations - a Good Practice Guide
Overview
Key areas this guide covers
Changing people and culture
Embedding or aligning with strategies, processes, systems, initiatives and services
Creating tools and resources (as part of project outputs) to meet key stakeholder needs
Creating appropriate organisational structures
Becoming more business-like and entrepreneurial
Open approaches
Rationale for this guide
A changing economic and funding climate will require HEIs and FECs to seek out opportunities to more fully exploit investment of time and resources in innovation projects.
A better balance needs to be achieved between institutions experiencing innovation projects for themselves and learning from others.
There is increasing focus, at sector, institution and faculty levels, on return on investment, benefits realisation and cost/benefits in relation to innovation projects.
Stages of innovation
Invention is about the generation of new ideas e.g. new ways of teaching and learning.
Early Innovation - this is all about the early practical application of new inventions, often focused in specific areas e.g. a faculty or speciality such as distance learning or work-based learning.
Systemic Innovation - this is where an institution, for example, will aim to embed an innovation institutionally.
What do we mean by sustainability and embedding?
Embedding innovation project goals and outcomes into:, People, Strategies, processes, systems, initiatives and services, Tools and resources
Maintaining and further enhancing the innovation project goals and outcomes
Maintaining an environment for sustained innovation and continuous improvement
Understanding the serendipity nature of innovation projects
Changing people and culture
Key tips
Consider simple approaches such as using early adopters as mentors or buddies to help cascade knowledge to other staff or the use of local (departmental) champions
Develop a vision of how well your project will be embedded in 3-5 years' time and then identify the enablers and barriers to make the vision happen.
Develop a communications and stakeholder engagement strategy and plan with a prime goal of raising the aspirations of staff and students and motivating them to adopt innovations.
A communications and engagement plan should aim to convey key simple messages following the "WHY – WHAT – WHEN – WHO - HOW" principles.
Consider using change management techniques developed by the sector to overcome people and culture issues.
Motivate staff and students to adopt innovations by providing case studies, backed up by strong evidence and testimonials from students and staff.
Use Web2/new media (in a "blended" approach) to effectively communicate with stakeholders and to get over key messages e.g. using podcasts, vidcasts and screencasts.
Develop Communities of Practice (CoP) or Special Interest Groups (SIGs) to sustain dialogue and build expertise and resources – but these must be "owned" by the community.
Ensure senior managers are targeted with the communications plan (e.g. PVCs, Deans and Heads of Schools) – these people are resource/budget holders and can advise on how best to embed innovations within institutional structures and processes.
Incorporating staff support and training into existing institutional mechanisms such as staff development programmes, professional qualifications, peer review and performance review processes.
Simple approaches
Mentors and buddies
Local champions
Student mentors
External personnel
Visioning
Vision how innovations will be used within e.g. 3-5 years
What will be the key drivers/motivators that will enable the vision to be achieved?
What will be the barriers to the vision being achieved?
What will the enablers be to achieving the vision?
Scenario planning
A method for anticipating the future by understanding the nature and impact of various driving forces & creating a series of "different futures"., Scoping, Trend analysis, Building scenarios, Generate options, Test options, Action plan
Developing a communications and stakeholder engagement strategy and plan
Better understand the needs and concerns of different stakeholders.
Develop a shared understanding of what you want to achieve by communicating and engaging with each stakeholder group.
Collaboratively develop a common set of key messages to communicate to different stakeholders as well as a plan to use both traditional and new media communications techniques.
Communicate simple messages, Why, What, When, Who, How
Change management techniques
There is a myth in HE that Great innovation project + great project management + great outputs = instant take-up by the institution/sector
If change is well managed, there can be a range of benefits, Staff understand the rationale for adopting the project., Resistance and barriers are identified and dealt with., Senior level buy-in., Communications are segmented and targeted at different audiences, addressing questions and issues that they are concerned about., Momentum is built throughout the institution., Changes are less painful., The probability of sustaining and embedding projects is increased., The institution builds a record of successful change.
The HE sector has produced a range of techniques., The Higher Education Academy Change Academy, The University of Hertfordshire CABLE process, The Higher Education Academy Enhancement Programmes, JISC InfoNet Management Simulation
Developing communities of practice
The HE sector has produced a range of communities of practice or SIGs - Special Interest Groups, ELESIG, Higher Education Academy Subject Centres, MEL SIG, QA-QE in e-Learning, JISC Emerge
Critical Success Factors, Ownership, Ownership primarily needs to lie with practitioners, not HE/FE agencies., A core steering group should drive forward the CoP/SIG aims and objectives., Communications, CoPs/SIGs should develop a communications and stakeholder engagement strategy and plan., Communications with stakeholders should be regular, high quality and profiled to different stakeholder needs., Web2 technologies/media should be adopted., Communications need to be co-ordinated and facilitated - though this does require significant effort to achieve (some CoP/SIGs rotate responsibilities for this in order to lessen the "load" on one individual)., Activities, Steering Group members should commit to agreed "sweat labour" in respect of CoP/SIG activities., Resources/outputs, The CoP should aim to produce useful outputs, resources and toolkits (as appropriate) for use by its membership., Sustainability, Sustainability of CoPs/SIGs must be a core focus for the steering group and this must take account of what contributions the steering group and membership can make., It must be recognised that the community membership and steering group will have limitations on how much time they can contribute without being funded or rewarded in some way. It is not good practice to adopt a total-funding approach, however, the steering group should consider potential reward mechanisms e.g., Sector recognition of member's work,, Publication of shared articles, journal and conference papers, Aligning the CoP/SIG goals/activities with development/innovation projects and programmes., Financial, CoPs/SIGs should aim to seek funding - this could be in the form of e.g., Agency funding to cover basic operational costs (typically low-amount funds from agencies such as the Higher Education Academy, JISC, QAA)., Project funding to fund specific collaborative projects which have defined outputs., Advertising/sponsorship., In-kind contributions e.g. institutions hosting meetings, travel funding, If operational funding is available, it should be prioritised towards effective communications and stakeholder engagement., CoPs/SIGs should not become "funding junkies" - they should primarily be driven by "sweat labour" from its membership and using micro-funding to cover operational essentials such as travel/meeting budgets.
Key features of communities, Terminal curiosity: a desire to do new things., Passion., Desire to establish reputation, Frequent necessities., Share practice and mutual engagement., Willingness to share deep problem solutions., Project holders with clout and securing on-going SMT buy-in., Clear governance and an organisational space in which to innovate., Ability to add project resources to existing resources., Sustainability dialogue, including newsletters and face-to-face., Continuous need for funding., Constantly evaluating the community., Constant movement and change is essential - different people and different activities including the development of regional groups.
Using Web2 applications to support communities of practice
Social network, Social networks such as Ning, Elgg and Facebook are commonly used by CoP/SIGs to support communications and stakeholder engagement., The big advantage of such social networks is that they are free (though some, such as Ning, are now beginning to charge), are hosted and that they require minimal technical effort., The main disadvantage is that such networks do not allow a great degree of customisation and are not always good at providing easy navigation for large amounts of resources., Examples, ELESIG, CABLE Transfer, QA-QE in e-Learning SIG, JISC Emerge, The degree to which asynchronous discussions take place within CoP/SIGs varies significantly.
Cloudworks (a sector social network), The OU's Cloudworks site can be regarded as a sector resource for communities of practice and has been developed by the Institute of Educational Technology at the OU (funded by JISC/OU). Its aims are to:, Enable people to find, share and discuss learning and teaching ideas, Connect people with similar educational interests through social networking, Provide inspiration on designing learning activities and developing resources, Showcase the work of individuals and communities who want to reach existing but also new audiences, Provide a place for different communities to discuss, collaborate and aggregate relevant materials, ideas and designs, Encourage sharing, especially among people who have not shared learning and teaching ideas and experiences before.
Wiki, In addition to using social networks, CoP/SIGs often use a wiki to store key information and resources e.g. ELESIG
Real-time conferencing and collaboration (e.g. Elluminate), An increasingly used tool to support CoP/SIGs is real-time conferencing/collaboration - most commonly Elluminate., JISC has published a Good Practice Guide for using Elluminate.
Embedding or aligning with strategies,processes, systems, initiatives and services
Key points
Innovations are far more likely to be adopted throughout an institution if they can support specific institutional or faculty/school goals, needs and drivers.
Innovation project teams should work with the "owners" of specific institutional strategies to embed their innovations within the strategies.
When considering stakeholder needs, the needs of stakeholders such as employers, sector bodies (e.g. sector skills councils) and professional/standards bodies should also be embraced.
Innovations can be embedded into processes, systems and services, such as QA/QE and curriculum design, review and approval processes, ICT systems to support curriculum design, review and approval and curriculum design/review support services.
Innovation projects should consider developing a sustainability and embedding plan - to align with the communications and stakeholder engagement plan.
Aligning with institutional goals, drivers and needs
Innovations are far more likely to be taken up if they can support specific institutional or faculty/school goals, needs/drivers and even more so, if the institution has a particular strategy to implement. Examples:, Widening participation, Addressing concerns highlighted in the National Student Survey (NSS), Addressing other stakeholder concerns & needs, Improving student learning experience, "personalisation" and employability, Work-based learning (WBL), Remote learners, Teaching spaces modernisation (or new build), Institutional globalisation
Embedding in strategies
Guidelines for incorporating innovations into specific strategies:, Ideally, innovation projects should be driven by institutional drivers and needs - and the alignment and incorporation into strategies should be sustained throughout and beyond the project., Evaluation of innovation projects should focus on impact of the innovations which should be mapped back to drivers, needs and strategies (where relevant). Measures of success in relation to impact should be defined., Ensure senior managers understand how your innovations can support the implementation of their strategies - this will require adopting a "business" approach e.g. in addressing issues such as costs/benefits, resourcing, implementation issues, change management requirements (e.g. for overcoming resistance and barriers)., Work with the "owner/developer" of the strategy to identify how best to incorporate innovations into the strategy., Provide effective guidance about the appropriateness for using the innovation e.g. in which contexts, which disciplines, required "readiness" of staff/students, support, training, costs/benefits, meeting the strategy aims and objectives etc., Address implementation needs of the strategy - what will programmes teams, for instance, need in terms of support, training, guidance, evidence of effectiveness, case studies?
Embedding in processes, systems, initiatives and services
Typical opportunities for embedding are as follows:, Curriculum design, approval and review, QA & QE processes, Staff recognition and reward mechanisms, Technical infrastructure, Embedding into services, Taking advantage of an initiative or roll-out of a new service e.g. Lewisham piggy-backing, Making full use of collected data
Developing a sustainability and embedding plan
Scope for project teams, People, Strategieus, processes, systems, initiatives and services, Tools and resources
At institutional level, Create en environment for sustaining and embedding innovations, Appropriate organisational structures, Becoming more business-like & entrepreneurial, Adopting open approaches
Sector initiatives
Creating tools and resources
Key points
The tools and resources developed should meet the needs of different stakeholders - time and care should be allocated to understanding what these needs are.
Consideration should be given to sharing the production of tools and resources in order to share the workload, avoid duplication & conflicts and making it easier to sustain and update the resources.
Effort should be applied to turning project "outputs" into "products" that are usable, relevant and accessible by different stakeholder groups.
Web2 and multimedia techniques should be adopted appropriately when developing tools and resources.
Consideration should be given to communications and stakeholder engagement in respect of developed resources - whether this is in-house or at sector level.
Stakeholder feedback on experience with using resources can be valuable in helping others to judge quality and usefulness.
Case studies should be made available in varying levels of detail, with in-depth studies looking at issues such as cost/benefits, implementation issues, critical success factors, risks, contexts in which the innovations will work etc.
A balance must be achieved between providing useful information and information overload. If too much information or too many resources are provided, it can be difficult for busy professionals to locate what they need.
Ideally, tools and resources should be adopted and "owned" by communities of practice at institutional or sector levels.
The currency of tools and resources needs to be maintained.
Options for tools and resources
Case study
Process
Findings
Evidence
Conceptual tool
Demonstrations, exemplars
Software
Report
Guide
Recorded workshops
Learning
Journal and conference papers
Online portal/network
Tips for producing usable, relevant and accessible resources
Take time to understand what stakeholders need
Appropriate language and terminology
Contextualised
Produced by/owned by the community
Comprehensive descriptions/detailed case studies, Basic, Why - the rationale for the project including the context, needs, challenges and drivers., What was done., How it was done (the methodology)., The outcomes (both planned and unexpected) including benefits to different stakeholders., The impact on different stakeholders., Optional, Detailed "how-to" guidance, Contextualising guidance e.g. where/when the innovation would be most relevant, such as for different subject disciplines., Costs for designing and delivering., Implementation risks and how to manage them., Cost/benefit analysis., Critical success factors for implementation., Skills/roles/responsibilities for implementation., CPD/training requirements., Support requirements., Comparisons with existing practice.
Support practitioner learning and educational decision-making
Easy to find, navigate and comprehend, Include multiple methods to allow users to search and browse the resource., "Promote" the resource to those most likely to find it of interest e.g. through communities of practice and SIGs., Maintain the resource in a single location and request that stakeholders create links to the resource (this can help support updating of the resource)., Avoid "information overload".
Use of multi-media/web2, Podcasts, Vidcasts, Screencasts, Slideshows, Diagrams & schematics, Mindmaps, Other Web 2 resources
Evidence/evaluation of impact
Testimonials
Useful guidance
The Design Studio
Maintaining the currency of tools and resources
Creating appropriate organisational structures
Key points
Institutions should consider setting individual project innovations within a context of overall (& cyclic) continuous Improvement - where there is a focus on addressing key institutional/local goals, drivers and needs (the "big picture"), embedding and "joining up" innovations and reviewing/reflecting on the impact of the innovations - akin to action research.
Innovation project teams do not always have the motivation or wherewithal to take responsibility for embedding innovations, therefore project teams need to transfer "ownership" of their innovations.
Change agents (or champions) in a devolved model can take on ownership and responsibility for facilitating uptake of innovations.
Heads of faculties/schools are key stakeholders in regards to embedding innovations as they can set direction and allocate time and resource - innovation project teams therefore need to convince and motivate them to adopt their innovations.
Communities of Practice need to be set up in an institution to support networking of change agents/champions in order to facilitate sharing of ideas, knowledge and expertise between faculties and schools.
Service departments, such as e-learning, blended learning, MIS departments should consider adopting a true "partnership" approach with academics in order to facilitate the uptake of innovations. This partnership approach should also apply to inter-working between service departments, where "turf wars" can block co-operative working. Critical to developing such partnerships are (a) developing a common language, (b) overcoming traditional "master/slave" relationships and (c) creating win-win goals/activities.
Adopting an institutional Continuous Improvement approach
Untitled
Who is responsible for influencing and facilitating change?
Project teams need to "transfer ownership"
Examples, Devolved change agents/champions, Students as change agents, Deans, Heads of Schools/departments
Organisational barriers and issues
In times of financial difficulty SMTs may want quick wins rather than investing in longer-term impact and sustainability efforts.
Maintaining support from Senior Management Teams - projects need to maintain continual engagement and effective communications with their SMT e.g. to highlight benefits of their projects that will meet SMT needs and concerns.
Reporting requirements do not always encompass impact assessment and monitoring, both as a baseline and as an on-going measure of success.
Inflexible re-allocation of people and effort (e.g. in securing suitable people to start projects at short notice or to secure new people if project needs change).
Skills gaps in knowing how to model and measure sustainability and impact (there can be a lack of clarity as to how to approach modelling and measuring sustainability and impact - which should vary depending on the type of project and the nature of the outputs).
A lack of clarity, skills and focus in defining the business case.
Programme level change is essential to sustainability yet there can be a lack of programme-level culture in institutions.
Funding cycles do not allow for full tracking and evaluation of change and impact (e.g. some project impacts will not become fully apparent until pilot projects are rolled out after the formal end of the project).
There are many projects running concurrently resulting in information overload - institutions need to better manage the "information tsunami" (see section 2.3 on developing a communications and engagement strategy and plan).
It is not always possible to anticipate an impact and it is possible that unintended impacts may occur - sustainability plans need to have the flexibility to adapt accordingly.
Communities of practice for change agents/champions
Evolving staff roles, responsibilities and contracts
Innovations can give rise to new ways of working
FE is leading the way in new forms of staff contracts
Encouraging true partnership working
Shared vision
Cultural diversity
Trust
Longevity
Networking
Transparency
Becoming more business-like and entrepreneurial
Key points
There is a growing need to respond to the new economic climate and pressures from senior management to align innovation projects with institutional/local goals, drivers and needs.
Project teams will increasingly be required to evidence measureable impact and positive cost/benefits of their innovation projects.
Project teams need to work with key influencers and budget holders on planning the embedding of their projects.
Project teams should develop a sustainability and embedding plan - to align with the communications and engagement plan.
Project teams should consider potential business opportunities that arise from their innovations projects.
JISC have developed an impact calculator for evaluating the efficiency of change initiatives.
Focusing on impact and returns of investment
Evaluating costs/benefits
Working with key influencers and budget holders
IPR and licensing
"Business" opportunities
Open approaches
Key points
The education sector should be more proactive in its leadership of open approaches, at individual, institutional and sector levels particularly in the development of an open and co-operative community culture ….. which can underpin the sustaining and embedding of innovations.
Long term sustainability requires institutional embedding as well as co-operative/community approaches at sector (& sector subject) level, which can encourage re-use of content.
Open approaches, such as with OER and software development, can act as the catalyst for transformations in scholarship, pedagogy, working practices and business models.
Open and business approaches are not necessarily mutually exclusive - they can complement each other.
One of the most significant barriers to the use of OERs is the unwillingness of academics to develop, share and use such resources, however JISC innovation projects have shown that such barriers can be overcome by e.g. raising awareness of what's possible and the benefits to scholarship, research and practice as well implementing staff training (which should ideally be professionally accredited).
Open approaches can help to meet Government drivers.
There needs to be greater awareness of the benefits and mechanisms of open approaches, not just amongst practitioners but also amongst senior managers and policy-makers.
In order for institutions to sustain open approaches, "openness" e.g. for OERs needs to be embedded into key strategies, staff development programmes, working practices, services, quality processes and cost/benefit analyses.
The sector should increase its efforts to develop sector approaches, toolkits, resources and management systems to encourage open approaches and sustainable communities.
An open approach to co-operative development (including students), use, re-use and re-purposing of content can underpin the transition to the concept of learning as a process.
Whilst IP and licensing is a complex field, Creative Commons licensing and release to an open repository provides a relatively simple approach.
Open approaches offer many opportunities for HE and FE to develop new partnerships in business sectors e.g. with employers, sector skills councils, professional bodies and employer consortia e.g. to develop business sector OERs and technology innovations.
Comprehensive information about OER current practice and issues can be found from the synthesis and evaluation report of the JISC OER programme.
Sustaining projects via open approaches
Quotes, "'Sustainability' is not about money, it's about the way we wish to love, live, eat, work, play and learn together. If OER is 'unsustainable', it is a symptom of wider social practices which are unsustainable." Joss Winn, University of Lincoln, Centre for Educational Research and Development., "The movement toward open content reflects a growing shift in the way academics ... are conceptualizing education to a view that is more about the process of learning than the information conveyed in their courses." Tom Browne, University of Exeter, Education Enhancement, Academic Services, "Information is everywhere; the challenge is to make effective use of it. As customizable educational content is made increasingly available for free over the Internet, students are learning not only the material, but also skills related to finding, evaluating, interpreting, and repurposing the resources they are studying in partnership with their teachers." Educause Horizon Report 2010., "Sustainability = embedding institutionally AND communally" Helen Beetham
"Openness" is a general concept around which individuals, institutions and the education sector as a whole can operate and which can encourage:, Sharing, re-use and re-purposing of resources by individuals, institutions and the sector as a whole., Access for free., Changing practice, roles and responsibilities in terms of development and use., Communal development and transparency., Common approaches to IPR that support rather than hinder the core objectives of openness., Sector approaches/standards to support identification, management, promotion, categorising, tagging, re-use and re-purposing of resources., Greater accessibility and usability of resources.
In the education sector, the openness concept is typically encountered within:, Open source software, Open educational resources (OER), Open standards
Innovation projects can sustain and embed their objectives, outputs and outcomes through open approaches e.g., Creating project outputs as OERs and/or open source software., Adopting open standards/formats., Creating or joining open communities., Embedding open approaches institutionally e.g. through alignment with key strategies.
Benefits and challenges of open approaches
Benefits, Individual, Can enhance individual values e.g., Openness, Public interest, Quality, Willingness to share, Willingness to use others' resources, A focus on learner needs, Reputation enhancement, Personal/professional rewards, Greater awareness of the benefits of open approaches., Institutional, Can act as a catalyst for change in institutional strategy and practice e.g., A more strategic approach to managing content, Aligning strategies, processes and systems, Re-thinking pedagogy, Transformations in LT&A, Encourage sharing and re-use, Students as producers of content, Promoting learning across discipline boundaries., Underpinning research-informed learning and teaching., Supporting new modes of learning e.g. self-directed, peer-to-peer., Encourages partnership working - including formation of international partnerships., Cost efficiencies., Can enhance brand, reputation and visibility to stakeholders such as employers, potential students and collaborative partners, Potential to engage alumni., Sector, Encourages sector sharing, scholarship and collaboration (e.g. formation of communities and partnerships)., Encourages concept of sustainable "open" practices as a model for changes in institutional processes., Social responsibility., Economic responsibility - cost efficiencies., Meet Government drivers., Supports subject centre or topic-based collaborations., Outside the sector, Can act as the catalyst to form greater linkages and partnerships between HE, FE and employers and hence contribute towards life-long learning and employer CPD programmes., Can provide an opportunity for sector-level partnerships to form that bring together multiple partners e.g. HE, FE, employers, Sector Skills Councils, professional standards bodies, professional bodies, statutory bodies and employer consortia., Public accountability and recognising tax-payers.
Challenges, Individual, Willingness of academics to contribute resources., Willingness of academics to use and re-use others' resources., Confidence and trust., Time and resource., Perception of added value., Institutional, Allocating appropriate resources to staff., Understanding and measuring costs, benefits, impact and return on investment., Confusion over compliance issues and how best to work with legal people., Staff awareness and motivation to develop and use open resources., Quality and reputation., Sector, Outside the sector, Forming partnerships outside the sector can take time and there are many barriers such as differences in culture and ways of communicating.
Open approaches and institutional change
Planning and organisation, Ensure it is not just about publishing OERs - sustainability is built in with e.g. re-use, development and enhancement and re-purposing (i.e. to maximise value of assets and avoid one-off developments)., Important to demonstrate benefits., Need to create a process e.g. for adapting campus-delivered course units into online formats., There can be different benefit cases - different technical and organisational solutions., Integrated content management needs to be developed., Technology solutions need to be put in place to efficiently support the development and publication process e.g. for reviewing, feedback, sharing., Typical OER institutional development teams will include a project manager, IT partners, subject specialists and an "Enforcer" - and should be academic-led., Consider "students as producers" - see University of Lincoln "Student as a Producer
Staff development, OER can lead to the creation of new skills and roles for academics., Content creators need training., Staff development in respect of OER is essential if it is to be institutionally embedded., Develop a culture of openness., OER must be seen as an integral part of scholarly behaviour., OER practices should be incorporated into staff development programmes.
Key issues, Lots of enthusiasm but insufficient skills and knowledge., Legalities., Concerns about mis-use., Making repositories both accessible and usable., Access by academics to local expertise (e.g. technical, legal and educational)., Time and resources for development., Flexibility in quality processes., Securing senior management support.
Sharing OERs, Deposit once in e.g. institutional/subject repositories., Need to ask the question "how will users find your OERs?"., Repositories need to be easy-to-use., Syndicate e.g. open repositories such as:, JorumOpen, Merlot, ITunes, flickr, Scribd, slideshare, Jorum, A FREE online service providing access to learning and teaching resources, contributed by staff in UK Universities and Colleges;, These resources can be shared, reused and repurposed;, JorumOpen provides access to OERs available under Creative Commons licensing;, JorumUK - resources for sharing within UK FE and HE through an institutional licence., Describe at an appropriate level of detail - include meta data tagging, pedagogy, wrapping and allow for user comments., Raise awareness and share ownership (e.g. blogs, feeds, events), Build in tracking and monitoring., Need to consider the issue of "linked to" vs "embedded" content - particularly the issue of updating content and whether hosting sites are terminated.
Technical, Need to agree file formats., Need to consider adapting OERs to different platforms., Open source software exists to help build OERs., If hosting OERs, need to consider providing adequate hosting and bandwidth., Generally, there needs to be a greater number of technical tools to support the development and "publishing" of OERs e.g. aggregating resources from different sites and tools to support development and management of OERs., Bulk methods for depositing to repositories/hosting sites are needed.
Evaluation, As well as evaluating impact on users, evaluation should also encompass costs/benefits and ROI (return on investment)., Include peer-reviews.
IPR/licensing, There is a large knowledge gap in this area., Institutions need to communicate clear policies., Academics need support., There are considerable risks in not getting legalities right., Creative Commons licenses have some excellent models and these can apply to the majority of L&T content., For example, a "non-commercial, share-alike, no derivatives" Creative Commons license features :, Tutors are respected & active practitioners in their fields, Protecting their intellectual property = protecting their non‐academic livelihood, · Supports tutors' ability to negotiate favourable terms for future contracts
Accessibility, JISC TechDis are a key authority on accessibility - providing guidance and a self-evaluation service., There are tools available to help build OERs with a high level of accessibility built-in e.g., University of Nottingham Berlin project toolkits: XPERT and Xerte
There are a rich set of resources in relation to OER available as a JISC OER InfoKit
Open Partnerships and Communities
Critical success Factors, Individuals who have passion and the ability to effect change., A community largely predicated on voluntary effort., Funding should only be focused on activities that the community is supporting. The community should decide on revenue streams but it must not trigger competition within the community., Leadership is vital to sustaining communities - it is not about ownership but inspiring and empowering others. If you are a good leader, people will follow you., There must be a strong focus on the "community of people"., A clear community governance is important, with clear managed intellectual property., An important role of communities is to manage records, data, resources (e.g. OER and computer code) and information for development., Sustainability is more likely to occur when you are close to the practitioner., Terminal curiosity: a desire to do new things., Desire to establish reputation, Share practice and mutual engagement., Willingness to share deep problem solutions., Project holders with clout and securing on-going SMT buy-in., Clear organisational space in which to innovate., Ability to add project resources to existing resources., Sustainability dialogue, including newsletters and face-to-face., Constantly evaluating the community., Constant movement and change is essential - different people and different activities including the development of regional groups.
Examples, ELESIG, Synote
The future of OER in education
There is a case for open scholarship across the board, linking research, teaching, professional practice
The need for improved OER Quality strategies
Skills for OER incorporated into Higher Education Academy accredited training
More useable and accessible technical tools and data exchange/management tools
A need to develop a culture of both developing and using open resources.
The need to identify the most appropriate and sustainable business models for OER.
The need to better "sell" OER as an idea to policy makers and to justify it in terms of impact and cost/benefits.
The need to involve students more to ensure that they get the best deal out of OER and to encourage them to release their own OER.
The need to understand how OER can contribute towards a growth in online/distance learning.